Haha up by 34 LSU goes for it on 4th and 2 at the Oklahoma 15.
Who was that guy a few weeks ago saying it didn't matter who got the 4 seed out of Utah, Oklahoma, Oregon and Baylor because LSU was going to roll whoever they played?
Oh yeah that was me.
Lol Joe Burrow rushing TD.
56-14
Oklahomer TD
56-21
Sentense.
Ohio St 10
Clempsin 0
Orange: Still ugly
TD Oklahoma
35-14
I will write in complete sentencez
TD LSU
42 -14
Joe Burrow 6 TD passes in the first half. 4 min left
That last TD was 62 yards to tight end Thaddeus Moss, the 6'3 250 lb son of one Randy Moss
Huh.
The LSU punt returner is Derek Stingley, son of Daryl.
Grandson, according to Wiki
Although the TE has a famous father
Nicked this from ESPN.com.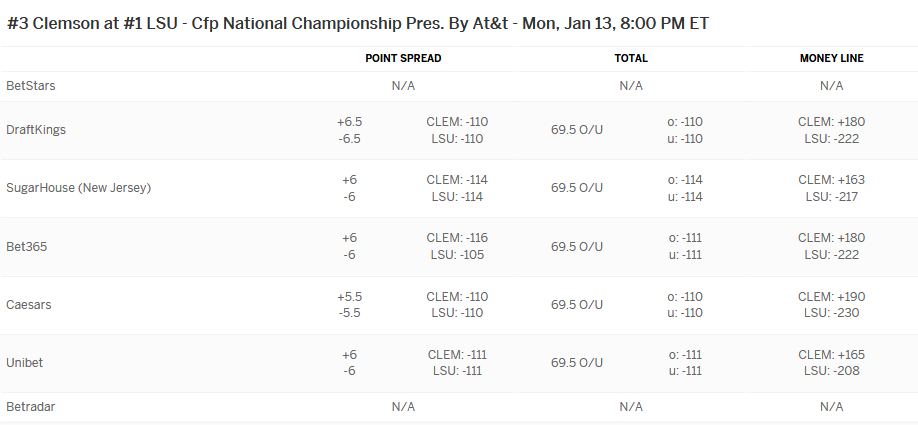 Cal-Illinois (Redbox Bowl) is turning into a track meet.
I have a question about DPI in the College Game. I know the penalty is supposed to be 15 yards, but … in the Cal-Illinois game, one of the Illini committed DPI when the ball was on his own team's 19 yard line. The refs marched off the whole 15. Should that not have been half the distance?
In college DPI is only half the distance if they can't enforce the entire length of the penalty.
So, if the penalty happens at the ILL 16, they mark off the whole 15 to the ILL 1, but if it's at the ILL 14, they only mark off half the distance to the ILL 7?
That sounds wrong, but okay.
Under 15 yards the penalty is a spot foul anyway. The penalty is only 15 yards if the foul was committed 15 yards or more from the LOS.
If it happens in the end zone they put it at the 2. I also believe that they won't spot the ball inside the two on. DPI. So if the LOS was the 16 and the DPI was at the one, then it gets half the distance. Otherwise its a spot foul or they enforce all 15 yards
If this Chase Garbers can play every game next season, well, I may not put Cal in the CFP, but I might put them in the Rose Bowl.
Illinois defender Eifler just got ejected for targeting on Cal WR Dancy.
I see what they are trying to do, but even as a Cal fan, I thought the call was iffy at best.
Eifler had been previously ejected for punching a Michigan State player in the butt, so I guess the refs aren't on the "Benefit of the Doubt" side with this guy.
It's 35-20 Cal with about 7 minutes to go, but the Illini still have some fight left in them.