Good morning, BSU!

Is it Friday yet?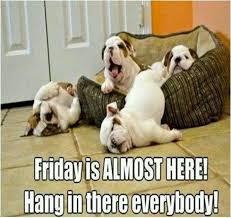 I think it would be interesting if we had a live video camera of Tyler job training. Could be highly entertaining
LOL! Most of the stuff I am good with… The Taxi inspections and Animal warrants and fines I am good with. It's the business licence side of things, adding charges, closing and reactivating accounts… So friggin over whelming haha. And they don't allow us to drink, even more bullshit lmao.
Hope everyone is having a great day.



I would bring the popcorn.
Good morning, everyone.
Logging in here first before PP. This place is just SWEET!
Hell yes!!! It's a great way to start the day. Make you leave happy not sad
I haven't been on talk sox in a long time either. Done totally with that place. Nobody has a sense of humor over there. I can never tell anyone when I go pee

it's sad
Or drink, or eating crunchy cake, or unhappy kid you wake up or , and or and or. LOLOL
Friday 8:07 pm is taking so dang long.
I have likes, BIG SUPRISE, LOL but I kow I didn't press like a lot yesterday for no real reason so I have some. How much I will find out LOL
Lmao it's amazing I'm still alive
I think we all should be, Tyler. LOLOL
We are.


Ugh we got snow today. Damn.
How much?
I miss snow from home. You know, real snow not this stuff we get here. LOL
Why are you arresting animals!?
Crap, this made me laugh outloud and loudly.





4 minute "Like" jail and I need to like the "arresting animals" post.