Good morning, friends

Enjoy your day!
Good Wingsday morning, everyone
Have a great day
Go Sox
Get us a win, Joel
Morning all!
Go Sox. Get a damn win
Doctor appointment today at 10:45
Oilers tonight at 8. Game 4.
The Braves are damn good. I'd settle for even one win in the series and be content.
Happy Wingsday!
Ken Grille Photography:
Rose-breasted Grosbeak, Halifax, Plymouth County, Ma. 5/8/23. I have seen this gorgeous songbird only a handful of times over the years and it's always special. On this day I heard it first as it was low in the brush and not visible. I waited awhile for it to come up and to get my opportunity to view it and take some photos. After about 20-30 minutes he finally appeared out in the open, with the added bonus of being surrounded by red leaves and the blue sky in the background. Yes, it takes patience and persistence. So much beauty out there. Enjoy the photos.
From Cornell Lab: "Rose-breasted Grosbeaks are stocky, medium-sized songbirds with very large triangular bills. They are broad-chested, with a short neck and a medium-length, squared tail. Adult males are black-and-white birds with a brilliant red chevron extending from the black throat down the middle of the breast. Females and immatures are brown and heavily streaked, with a bold whitish stripe over the eye. Males flash pink-red under the wings; females flash yellowish. Both sexes show white patches in the wings and tail. These chunky birds use their stout bills to eat seeds, fruit, and insects. They are also frequent visitors to backyard bird feeders, where they eat sunflower seeds with abandon. The sweet, rambling song of a male Rose-breasted Grosbeak is a familiar voice of eastern forests; their sharp "chink" calls are also very distinctive."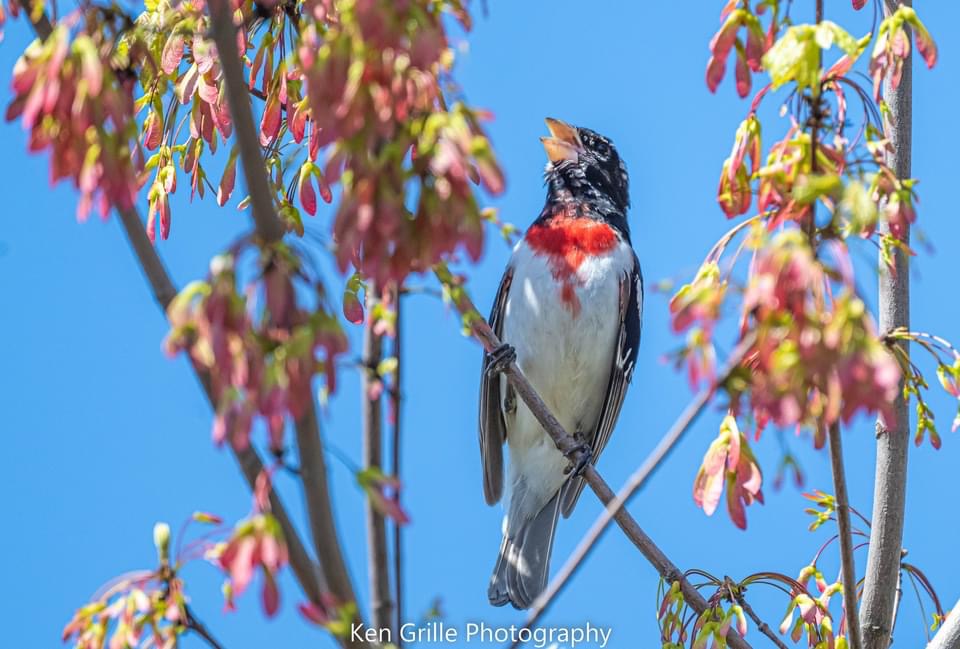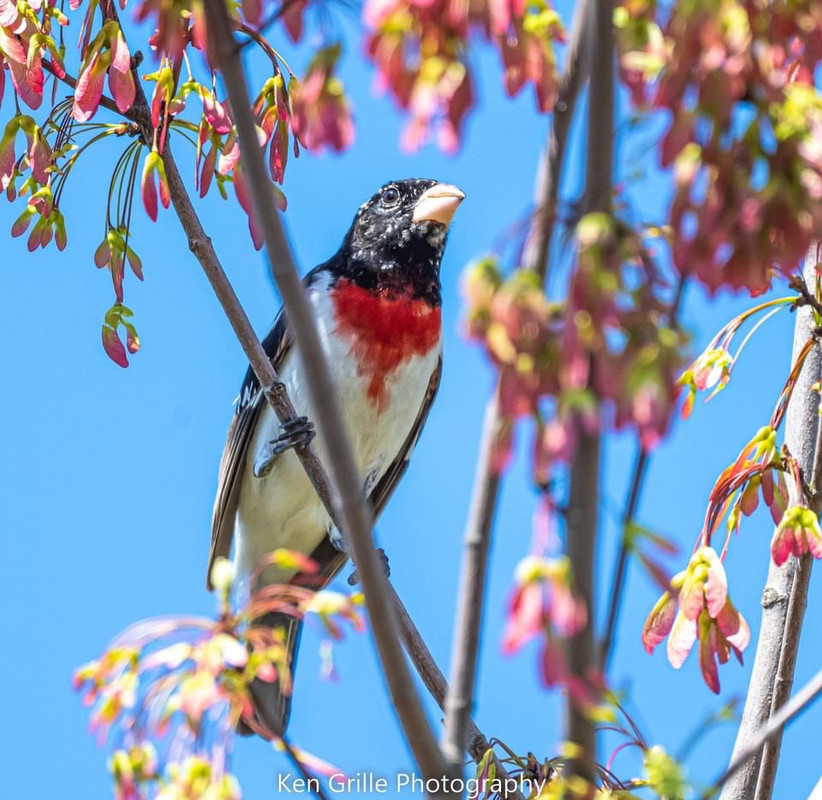 Yay doctor wrote me off work for a month!
Told my boss. He probably isn't happy lol.
That is a beautiful bird. Thank you for posting it, Joolzie
Awesome! Relax & enjoy your time off.
Eat shit, Paul

Beautiful bird.

Yay; month off!
Enjoy the time off, Tyler. I bet Baby Belle is happy

Jack, do you get the game on MLB Network or the Cardinals/Cubs?
My guide shows Red Sox game!