Good morning, all
Have a good Sunday
I think the game is only on NESN+
Yankees Suck
Good morning, my friends

Have a great day!
Go Sox!
It's okay though, at least for me. If you get NESN your provider should have NESN + but I'm waiting to see if this game is on regular old NESN.
I'll probably miss a big part of the game. My sis-in-law is visiting from SC.
Fancy lineup card is not available yet because Orioles lineup isn't available.
Jack, I changed the thread title because the Sox play the Orioles today, not the Yankees. It appears the NESN broadcast schedule was incorrect.
I don't know what's going on today. Apparently it's a "split squad" because I just found this. I have to scoot so maybe someone else will figure this out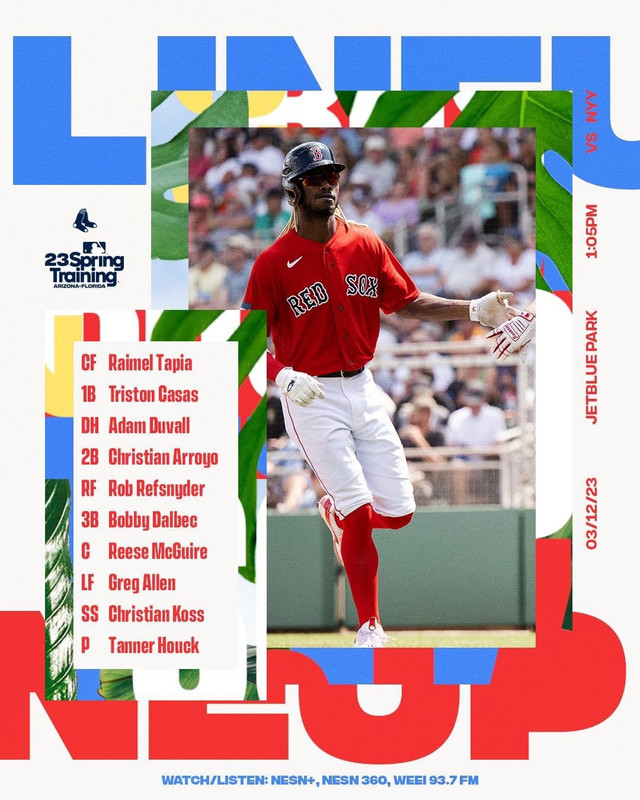 It appears there's a Yankee game too

Maybe the Sox/Yankees game is on NESN + and the Orioles game isn't televised.
Sorry if I messed everything up.
Later!
I hope you have a lovely visit, lady.
Good morning!
Still riding the Dike win high. #ACCChamps023
#Beuins and #Sox woohoo
Tyler, Bruins become the first team to clinch playoff spot, woohoo.
I'm now officially confused
Well I'm getting Sox - Yanks game
Gwtting Sox-Yank game, Bruins vs Detroit and Texas A&M vs Bama for SEC basketball tournament all at the same time, lol
Too much to keep up with.
Exactly so not watching Sox since its ST. I'll watch Bruins and keep eye on SEC
Alright sox. Get back to your winning way!
Morning all by the way lol
Is Houck going to be in the starting rotation this year?
I got the Sox Yankees game on.