Yeah. I've been watching sports all afternoon . how is this not all over the place?
Ya I just found out through Facebook…
What a tragedy. Devastating. I'm shaken by this awful news.
Me too man, my friend said his 4 kids died too??? But that isn't confirmed yet. I hope that isn't true. Horribly sad day.
Correction, his daughter died too. 13 years old. Crushing.
Is the daughter confirmed? I'm reading all sorts of conflicting reports…all 4 daughters…Rick Fox…Joel McHale…
Looks like it is. So sad.
Yup daughter is confirmed. So sad… think they were on their way to a basketball game.
His last tweet was to congratulate LeBron for passing him on the all-time NBA scoring list?
Class.
He was a classy dude, on and off the court. Everyone said he was such a nice guy. The world lost one of the greats. So many peoples childhood hero passed today. Heart breaking:(
Mine is Peyton Manning and Van Damme. But still, Breaks my heart to see Kobe go.
John Altobelli, the father of a Red Sox scout who was also head coach of the Brewster Whitecaps in the Cape Cod Baseball League from 2012–2014, was one of the people killed in the helicopter crash Sunday that killed Kobe Bryant.
Altobelli, his wife Keri, and daughter Alyssa were among those who perished in Southern California.
In what Bryant said was "one of the lowest moments of my career," he recalled losing the 2008 NBA Finals at TD Garden, when the Celtics routed the Lakers 131-92. At that point, Bryant had only ever won a championship with Shaquille O'Neal, and he said he was "burning with frustration" as the clock ticked down and he wondered whether he'd ever again have the teammates he needed to win a title.
"I look over, and Bill Belichick is walking toward me," Bryant said. "I had never met him. Never spoken to him. He had courtside seats across from our bench, and with 20 seconds left in the game, he came over and said, 'Don't you worry about this. I know what you are going through. We just lost a tough one ourselves [to the New York Giants in Super Bowl XLII]. Just bounce back. Be ready next year.'"
Bryant said he and Belichick have spoken since, with Belichick even coming to the Lakers' locker room to talk coaching. "I thought it was really cool," Bryant said. "Respect across our professions." But if Bryant had to choose a member of the Patriots to see at Thursday night's Lakers-Celtics game, it wouldn't necessarily be Belichick. Bryant said he was hoping Rob Gronkowski would show up and share some of the good times. And Bryant was sticking to his line that he never wants to be a Celtic, and that he thinks his Lakers teammates leave him better prepared for a title run. He wouldn't even switch his football rooting allegiances to Boston. "I'm an Eagles fan, for better or for worse," he said. "I've got my fingers crossed that this Chip Kelly dude will work out." Sounds about right, seeing as some people think Kelly is waiting to take over in New England once Belichick leaves. Come on, Kobe. Just say you love Boston.
Read more at:
https://nesn.com/2013/02/kobe-…-comes-out-for-celtics-lakers/
Unreal. So sad
Apparently it was super foggy.
There was a couple nice tributes in basketball games tonight.
Before the C's/Pelicans game in New Orleans they had a tribute and a floor sized flag during the Anthem and then both teams, like others, served up 24 sec clock violations. Very nice.
11 hrs ·
As I'm trying to gather my thoughts my heart is hurting. I just got off a long flight to find out that Kobe is no longer with us! This hurts so much! He was one of my brothers. I am so sad for all of us, we lost a great one today! Kobe was the ultimate competitor and I loved him for it. He made all of us step our games up. I just wish I could have one more moment with him to tell him thank you! Thank you Kobe for the example you set! Thank you for always bringing your best, regardless of who was on the other side. Thank you for showing us all what greatness looked like! You will be missed! #8 #24
'It was hard to focus out there': News of Kobe Bryant's death casts pall over Pro Bowl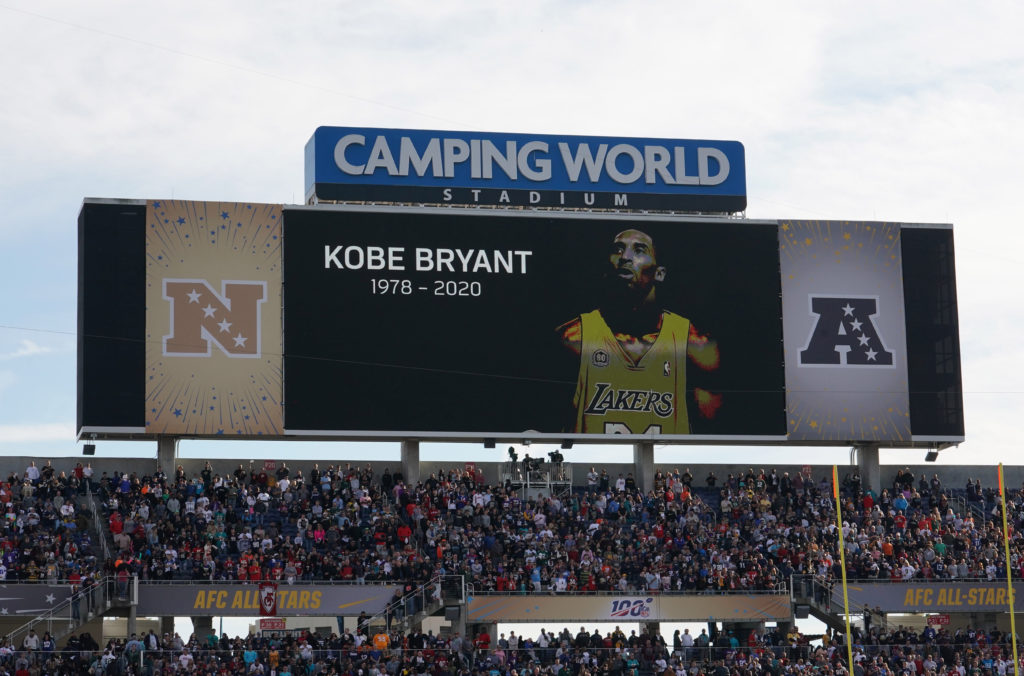 By Jeff Howe Jan 26, 2020
11
ORLANDO, Fla. — As the sun set on a surreal day in Orlando, Patriots Pro Bowl players Matthew Slater and Stephon Gilmore tried desperately to process the deaths of Kobe Bryant, his daughter Gianna and seven others in a helicopter crash in California.
It was less than two years ago that Bryant met with the Patriots at Gillette Stadium during organized team activities. That's when the former NBA star spoke to the team about passion and dedication, about life and accomplishments, and most importantly about the players' responsibility to intertwine their professions and their families.
That's what Slater really took away from that day in May 2018. The message rang truer than ever during and after the AFC's 38-33 Pro Bowl victory.
"One thing he said to me," Slater said, "that really stuck out about that day was, hey, when you're at work and you're working on your craft, you've got to give everything you have. You've got to be disciplined. You've got to be willing to sacrifice everything. But when you go home, you've got to bring the same energy and passion and focus to the time you spend with your family. That really stuck with me. That was the one thing he said that stuck with me. Because sometimes that's hard to do as an athlete. You come home. You're tired. Your kids want to run around. Man, you've just got to hold onto these moments that you have."
Slater grew up in California's Orange County, where Bryant was revered.
"As a youngster growing up in Southern California, Kobe was the man," Slater said. "We all loved him. I'll never forget the first time I saw him. We were at a movie theater in Orange County. He was dating his wife at the time, young kid still. We saw him walking around, and we were little kids just chasing him around like, 'There's Kobe!' We didn't get too close. We were just in awe of who he was as an athlete, the way he entertained. You think about all the things he did outside the game of basketball. He lived life. He lived a full life. You hate to see it come to an end. But I'm certainly thankful for the many moments of joy he provided me as a fan and as a supporter of sports."
Slater and Gilmore brought their families to Orlando for the Pro Bowl, taking advantage of the week's laid-back atmosphere and festivities and the amusement parks in the area.
It was just four days ago that Slater and I gushed about our families, the experiences of our respective professions during the season and the offseason, and the necessary desire to prioritize those close to us. So we revisited that topic again Sunday after the Pro Bowl, this time with even more perspective.
It was as real of a conversation as you can have on a day when reality seemed to pause.
"Honestly, it was hard to focus out there," Slater said. "We found out like right before the team intros. Guys didn't know if it was real or not. Tonight, I'm just going to go hug my wife and my kids as tight as I can, tell them I love them, look them in the eyes and just enjoy the moments I have with them. Because again, none of us know when it's going to be our time.
"Oftentimes, we get so consumed with life and what's happening, careers and family, that you forget how precious life is, how short it is in the grand scheme of the world and of history. Life is a very precious thing. Tragedy doesn't discriminate. If it had been anyone, it would have been sad. Obviously, a man who has provided so much joy for so many people over the years, has been a tremendous entertainer and ambassador for the sport, ambassador for athletes everywhere, it's really, really saddening. It really is. And his daughter being on the helicopter as well. It really brings things back into perspective that life is so much bigger than what we do on the court or on the field. You've got to hold onto every moment that you have."
News of Bryant's death began to circulate just minutes before the teams hit the field at Camping World Stadium. Jaguars defensive lineman Calais Campbell mentioned it during the AFC's pregame prayer, but players still weren't sure if it was real. Many players checked their phones, but the official word of Bryant's death wasn't relayed until later in the first half.
During the two-minute warning in the second quarter, the stadium video boards flashed the news and asked for a moment of silence in Bryant's honor. Fans then chanted "Kobe! Kobe!" for the first of countless times throughout the afternoon. At least one player knelt in disbelief, while another removed his helmet. And during the game, players celebrated by mimicking Bryant's jump shots and flashed his jersey numbers with their fingers.
"We weren't really sure if it was real or not," Slater said. "I think we were all hoping it was fake, honestly. They mentioned it during the game, and it breaks your heart. It really does."
Gilmore echoed Slater's thoughts and said he really appreciated the day with Bryant in Foxboro. It was the only time Gilmore ever met with Bryant, but he felt they made a real connection.
"I really got to know him," Gilmore said. "It was a great time. He talked to me individually. I learned a lot from him, just talked the game, life. It's just sad. It's sad. I didn't believe it at first.
"He worked for everything he had. He was very talented, but his work ethic really stood out to me and his mentality, going into each and every game, how he prepared. That's one thing that stuck out to me."
Bryant's message that day was already strong enough to make a lasting impact on the Patriots. But the way he conveyed his appreciation for life and family held even stronger meaning Sunday when the NFL's annual all-star game became an afterthought to the news that stunned the stadium.
"It's tough," Gilmore said. "He has left a big legacy in the game of basketball. His mentality – went into every game talking about how he attacked life and how he could put the bad behind him, learn from his mistakes and be better as a person and as a player. It goes to show you that you've got to really live life every day, enjoy life, because it can happen to anybody. It's just sad he's really gone."
They wanted to wait until next of kin was notified but TMZ ran with it. most places respected the wishes.