I was a big fan and sorry when he left the Sox. Best wishes, Jon.
Excellent career & eventually should make the HOF.
One of my all-time favorite Red Sox pictures. Jon and Francona after his no-hitter.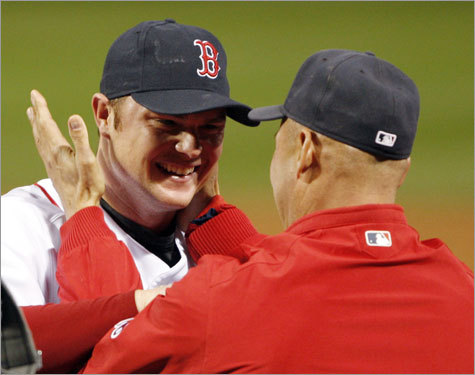 Tito is such a good person.
I was not happy they released him when they did.
I'll have to Google, but didn't he express the desire to return to the Red Sox?
Ill let Ask Joolz to find it for us.

I'm still researching but in the meantime I found this. A decent read.
This is why I would never want to be in charged, I have seen to many players and coaching staff let go and we all go, "What the ____?"
Some they get right, some they don't.
I can't find anything right now because it's a ton of editorial stuff about his retirement and where the Sox went wrong. It was a year or two ago he expressed interest in returning and retiring in a Red Sox uniform.
A thread posted by johnlocke in September of '20.
"Absolutely it would be cool to go back and finish my career where it all started."