Gammons: On the complicated Mookie Betts trade, and what comes next in Boston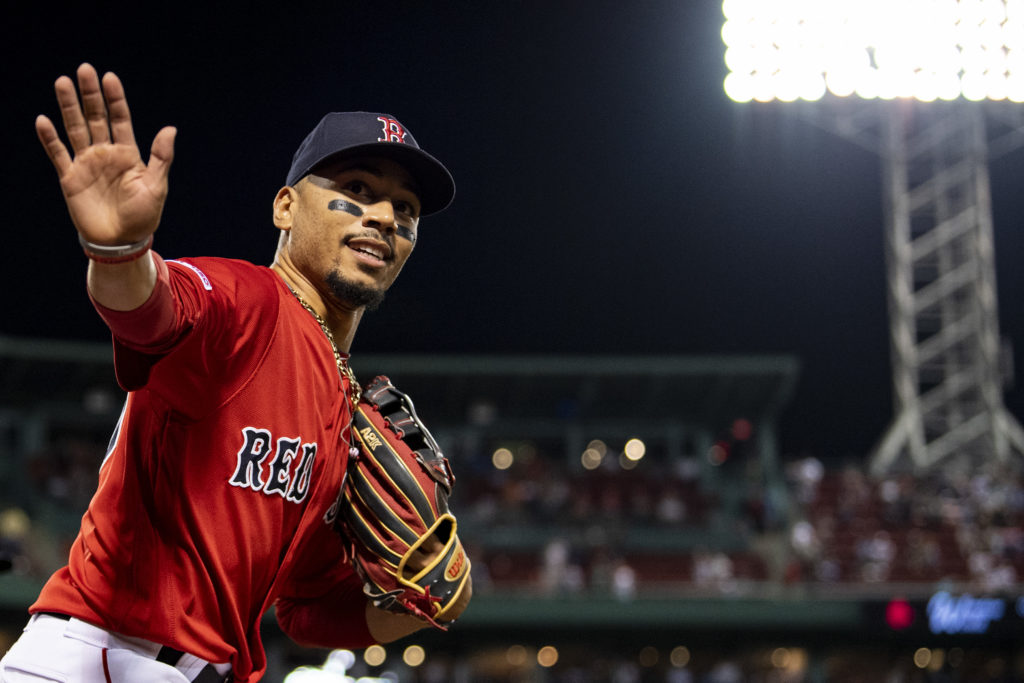 By Peter Gammons Feb 10, 2020
151
Former Red Sox president of baseball operations Dave Dombrowski is expected to stay in Naples, Fla. this spring, a half-hour from the Red Sox spring training facility. Several people associated with the Red Sox live there, and in March the streets are lined with New Englanders. It might be tempting for some fans, but to blame Dombrowski for Mookie Betts' departure isn't fair.
Look, no one likes that Mookie Betts is gone. He's not only one of the three to five best players in the game; he is also an extraordinarily good person. Remember after Game 2 of the 2018 World Series when he was distributing food to homeless people sleeping on the steps of the Boston Public Library at 1 a.m.? And remember that he was disappointed when word of it got out? Later, in L.A., he said, "that makes it look like a photo op, and that just damages the self-esteem of those unfortunate people who need self-esteem even more." He's one of those people who doesn't live in the me .
I get the fans' displeasure. John Henry and Tom Werner were listed in Forbes magazine as the third richest ownership in sports. The Red Sox have the highest ticket prices, and with the boom this ownership created in The Fens neighborhood, parking could be $100 this season.
But this is a complicated story, one not that different from the availability of star third basemen Kris Bryant and Nolan Arenado. Start with this: The reason the Yankees could sign a great pitcher like Gerrit Cole for $324 million, and the Dodgers can trade for Betts and think they have a chance to sign him long-term, is because in previous seasons they closed their ears to criticism and shaved their payrolls under the luxury tax, which in practice serves as a de facto salary cap.
It is far more difficult to get perceived value when a player is a year from free agency; ask the Indians, as they listened on Francisco Lindor. Should the Red Sox have been more cautious with the Chris Sale and Nathan Eovaldi contracts? In hindsight, perhaps. But if indeed the Red Sox did offer Betts $300 million last spring, and if reports are correct that his agent asked for more than $400 million, maybe there was no real chance to avoid him reaching the free-agent market at the end of the 2020 season.
Dombrowski was brought in to replace Ben Cherington and to win, which he did, giving this ownership a total of four world championships in 15 seasons. Cherington had won as well, and was fired. Theo Epstein won two, had a bizarre exit, and moved on to Chicago win another championship. Five of the last 16 World Series have been won by these three general managers.
So if Dombrowski wants to go to a Red Sox game or five in Fort Myers, fans should thank him; he should be able to soak up the sun or sit in Henry's box. This is not Pinky Higgins.
Ownership genuinely did want Betts to be the long-term face of the franchise. Mike Trout, Derek Jeter, Clayton Kershaw, Buster Posey, Miguel Cabrera were franchise faces who were retained at any cost, and, OK, Cabrera hasn't worked so well. But these are the Red Sox. Ted. Yaz. Big Papi. Pedro Martínez. Mookie.
In 1981, the Red Sox traded Fred Lynn to the Angels because they felt they couldn't sign him, a play in the running battle between owner-GM Haywood Sullivan and agent Jeremy Kapstein. So Lynn was traded for Joe Rudi, Frank Tanana and Jim Dorsey, none of whom were still with the Sox by 1982. David Laurila on FanGraphs pointed this out about Lynn and Betts' final three seasons with the Red Sox:
| LYNN | STAT | BETTS |
| --- | --- | --- |
| .311 | BA | .299 |
| .396 | OBP | .389 |
| .540 | SLUG | .535 |
| 73 | HR | 85 |
| 148 | OPS+ | 141 |
| 3 | Gold Gloves | 3 |
In the four seasons after Lynn's trade, Boston finished third, sixth, fourth and fifth in their division — until Roger Clemens emerged as a superstar, went 24-4 and they made the World Series. Clemens and fellow starter Bruce Hurst changed the culture to emphasize pitching for a short period of time; 10 years later, Clemens was allowed to leave and sign with Toronto.
The story the Red Sox passed on was that Kapstein told them Lynn wanted to go back to Southern California because of the beach; four years later, he told me that wasn't true, that "I was never a beach guy." There was also a media storm propagated by Red Sox management in the wake of Clemens' departure.
There is already an undercurrent of "Mookie hates Boston" or "He is selfish — he wanted too much." He wanted his market value, determined by the market. What's wrong with that? Gerrit Cole has changed the market for all extraordinary starting pitchers. Bryce Harper probably helped Mookie. Frank McCourt ran the Dodgers into the ground and got $2.1 billion and the parking lot rights with the Dodgers, and the value of virtually every team has skyrocketed.
There is no underestimating this ownership. Back in the 1990s, there was a Gold's Gym across Lansdowne Street from The Green Monster. Parking was easy, stepping around the garbage in the streets was not so easy. The only restaurant within walking distance was The Beer Works. Business? Nil. You could load up a parking meter with quarters on Beacon Street and go to a game.
Now The Fens is a boom area, dozens of restaurants, bars, stores, high rises. But if the Red Sox start 3-9 and it's 39 degrees and drizzling, Tom Werner isn't going to the front of the line at Dunkin' Donuts. With so many competing businesses now, one restaurant manager says, "when the Red Sox aren't winning, our business really gets hit. When they're winning, reservations are tough to get. Last September, business was down dramatically. It's a concern." If the Red Sox are in a battle with the Blue Jays for third place, you may not need reservations at Eastern Standard and Island Creek Oyster Bar.
This Betts deal had better be the beginning of a new rising, similar to what Brian Cashman did with the Yankees and Andrew Friedman has done with the Dodgers. There's a lot we do not know yet. What will the players coming back in this trade become? Will the emphasis on a different development program produce some young pitchers, something the team hasn't done since Clay Buchholz? Does resetting the luxury tax allow them to make some building trades and significant signings?
And all the while, another question looms: What will the commissioner's office to do in terms of punishment in the sign-stealing scandals? The Red Sox don't think they're going to lose draft choices and get a penalty similar to the one Rob Manfred handed down to the Astros, but there are reports through the industry that they will get hit, and hard.
Jeter Downs is a top 100 prospect, and Alex Verdugo should be a good player, if being Mookie's replacement in a tough media market isn't overwhelming. Dodger scouts say Verdugo has exceptional baseball intelligence; Dodger coaches say his arm is not only as strong as that of any outfielder in the majors, but that his throws have carry and remarkable accuracy, perfect for Fenway Park. "He should hit a ton of doubles in that park," says one coach.
Now we learn if chants of "you're not Mookie" will get to him.
In many ways, this Red Sox ownership is a victim of its own success. They invested in restaurants and sidewalks and street lamps, saved and redid Fenway Park, and they reached a crossroads this winter where they had to decide whether or not to reset their compass. They need to start getting draft choices higher than the 30-40 range. They need to really spend internationally. They need to find talent in other organizations, something Chaim Bloom's Rays did exceptionally well.
NESN's ratings were down last season, and while the Bruins may well make a run at the Stanley Cup, they want people watching the Red Sox in June and August, not the sunsets. This move isn't going to sell in the short term. Will it work out so that the reset gets them back in the high life and lets them win a couple more championships by 2030?
There are 15-year-olds who have no clue what the number 86 means. They don't know Kevin Millar or Johnny Damon or Trot Nixon. They do know Mookie. John Henry, Tom Werner and Sam Kennedy are smart; they know they can't erase and replace, and ride Chaim Bloom forward past the noise they're going to hear in the 100th anniversary of Babe Ruth's first season as a New York Yankee.