A couple of chicken meals worth of bones, 5 or 6 wilty and forgotten stalks of celery in my veggie drawer, 2 onions who had seen better days, a bunch of parsley, half a bag of oldish baby cut carrots, a few bay leaves, a spoonful peppercorns, some thyme and enough water to cover it all lovingly rendered down over the course of 15 hours in my crock pot.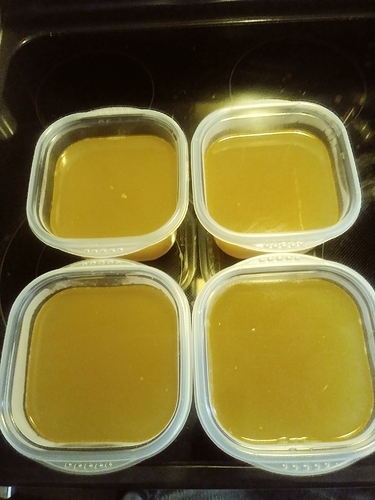 I'm not a multi billionaire like our Angry Clown Deity so I have been trying to pinch pennies where I can and I made 12 cups or so of this liquid gold. Would have cost 8 or 10 bucks in the store. All I bought specifically for this was the parsley which cost me 99 cents.
Thep Almet Completely Amatuer Cooking Tip: Use chicken stock instead of water when you make rice. The subtle chickeny taste is wonderful and the silky texture of the stick jazzes the rice up to another level.