Sweet revenge tonight lol
The player and media voting made a big difference for Walker's starter case.
hope Brad plays him a bit
Nice road win last night against a very good Miami team.
I'm looking at the standings right now, and the two Conferences are almost mirrors of each other. In the West, the Lakers have a 4-game lead over a chase pack; in the East; it's the Bucks with an 8-game lead over a chase pack.
I wonder if the death of Kobe puts the Lakers into "We're on a Mission from God" mode.
IF so I hope the Celtics are in a No F'n Way mode!!!
Celtics finally prove they can beat the Sixers.
I was there last night. Great game and we got some Taco Time
So, are the Raptors going to lose any more games this year?
Brad Stevens just passed KC Jones on the Celtics' all-time win list at 309.
He is now 4th on that list behind Auerbach, Heinsohn, and Doc Rivers.
Celtics have next to no chance of catching the Bucks, but damn, they need to push past the Raptors to claim the #2 seed in the East.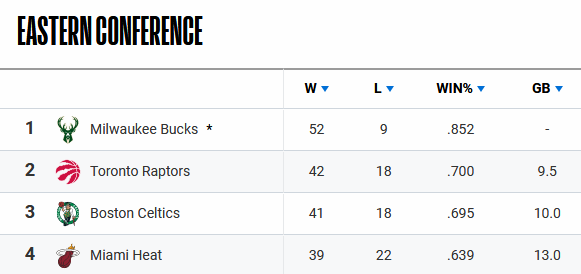 Toronto has come back down to earth a big. These playoffs are going to be interesting. Even Miami is playing so well this year. Hard to predict a clear favorite to come out.
they need to land in 2 or 3 spot that avoid a healthy philly early in the playoffs, let a 4 or 5 philly fight the bucks before a Celtics match-up.
If the Bucks don't end up in the Finals, I will call that a major choke.
Ya I agree with that. Two years in a row with the best record in the league. If they don't make it they willl be known as regular season pretty team that can't make it To the big dance.
Sounds like the colts lol.
Yeah, I used to say that about Peyton's Colts.
But then one year they came back on us in the AFCCG game like we were the Falcons. Was that the game where Jeff Saturday scored a TD?