6 TOP RAMEN CHICKEN FLAVOR PACKETS
I recently finished a 6 pack of Top Ramen Chicken Flavor noodles that someone gave me. I don't eat meat, so I just made vegetarian stock and cooked the noodles in that. I didn't want to throw the flavor packets away because what if someone out there (someone like you!) really loves the Chicken Flavor packets and has always wished for some extra that they didn't have to use to flavor their noodles. . .
TODAY IS YOUR DAY
You can nab these Chicken Flavor packets and use them to flavor popcorn, different noodles, marinade, etc. Maybe you just want extra flavor in your Top Ramen Chicken Flavor noodles! Or maybe you want to mix the Chicken Flavor with the Beef Flavor or the Shrimp Flavor! I even know some folks who used Flavor Packets like these to create a more intense obstacle course by filling kiddie pools with Ramen Water (maybe wait till Spring to try out this idea though(oh man, Chicken Flavor Snow Balls!!))! These are 6 extra Chicken Flavor packets of possibilities!
E-mail me and I can put them out on our front porch for you. OR if you seem really stoked there's a possibility I could drop them off somewhere convenient for you.
If you want to leave me a list of things you're thinking about doing with them, that would be awesome!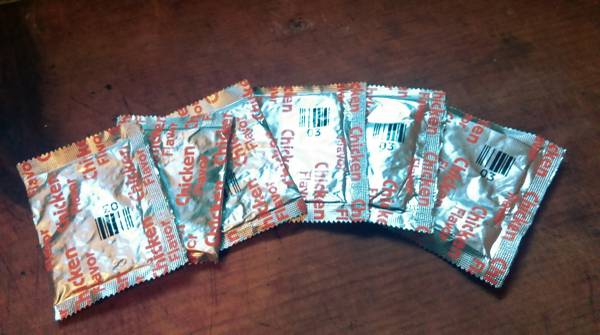 post id: 5401536928