They better get this sorted out soon.
Link is redirecting. Sorry

WORCESTER — Don't fret, WooSox fans, baseball will be played as scheduled this season at Polar Park.
I'm having trouble linking the article and it may require a Telegram subscription to read.
It will be nice if NESN broadcasts some games as they have in the past.
From the Telegram article:
More eyes on Worcester if lockout continues
"The WooSox will receive plenty of attention if the lockout continues. All eyes will be on MiLB and games will likely be televised nationally. WooSox games are already broadcast on NESN and NESN+. Also, if the Red Sox are not playing, Chaim Bloom, Alex Cora and many more Red Sox personnel will become regulars during WooSox games at Polar Park. The ballpark became a featured destination last summer, and it should increase in popularity if Fenway remains vacant."
Picture from the article. IMO, maybe because I'm local, Polar Park is beautiful.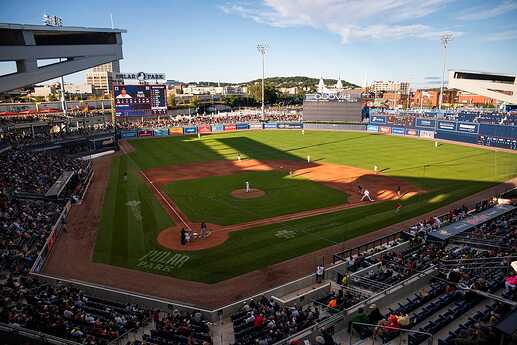 Well at least there is some baseball to be played lol.
I'm going watch college baseball for sure
sickening that they still can't reach an agreement.
Manfred is horrible almost Selig level. Baseball owners piss me off to no end.
I saw the video, Jack, and though of you righ away.
You would be shocked if you knew how many times I hear that on a daily basis