Good morning, my friends.
Have a great day!
Morning all. Have a great day
We got hit with about 20 cm of snow last night ugh. I'll be shoveling tonight a lot.
Good morning, everyone. Have a good Monday.
Jack
The playoff race is tightening up big time
Colts currently would get buffalo which is what I hope because I think we can beat them again.
Patriots would go into Cincinnati which would be extremely tough.
The NFC, the Eagles would play Dallas haha. Only time ever I would root for Philly. I can't stand dallas.
Good morning, everyone.
I hope all is well.
I meant to log in yesterday but the last few days I been sleeping a lot, no energy. I will be taking later this afternoon a Covid test, I honestly don't believe it is that but will take it due to the symptoms I have been experiencing since last Monday. I am fully vaccinated and boostered.
I also started a new medication last Monday.
So, either the virus, new medication or some new pain(yay), not sure is causing this.
I have had a headache everyday since last Monday and my lower back has hurt everyday last week to present.
So, that is where I was.
I had a lovely Christmas and am grateful for my small family. I hope you all had a wonderful Christmas and that you are all doing well.
I quickly scanned a few threads. I hope you are doing better , Joolz.
Pats, get your heads out of your butts for crying out loud.
Thanks for the update, Muse. Sorry you are not feeling well. Sending love and positive thoughts.
Oh man I hope you feel better soon Muse!!! That is brutal. I just got over being sick myself. Today I feel exactly how you do. Zero energy. I'm home with my son today as it's a holiday for me but my god it's hard to parent lol. Got 5.5 hours of sleep last night. Leah is working and Ayden is full of energy. Hopefully with lots of sleep you will feel better soon!
I have to shovel when Leah is home at 3. So tired lol. May need a nap.
I got brown actually. But for some reason it's not showing up the brown one
But yes I'm excited. Nice and slim! Just what I need.
Cincinnati might surprise some. They are loaded on offense & Joe Burrow is a special player.
Hope you feel better soon, Musie. Thoughts, positive vibes & a lot

sent in your direction. Hang in there & stay tough.
Tubby return

By all means, let your pups play in the snow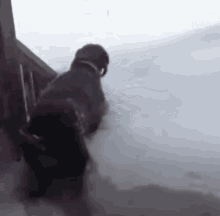 Agreed I don't want any part of them or thr chiefs
Bills, Ravens, Titans I'm fine with hahaha