Good morning, everyone

Have a great day
Go Sox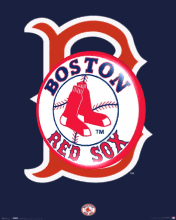 Morning all!!! Have a great day.
Joolz eye rolled my good wizz comment

Good morning, my peeps

Enjoy the day!
Good morning my internet family.

Still having trouble with manulife my insurance company. Ugh. I sent the nastiest email to my benefits team regarding Manulife. What a disgusting insurance company.
This is what I sent my benefits team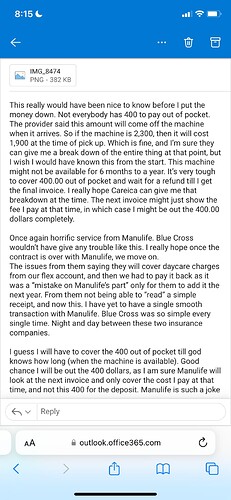 Well stated, Tyler & sorry for all the trouble you are dealing with.
Thanks folks!
And yes it is what it is jack. Comes with the territory. The city is extremely cheap and that is why they changed to Manulife. Blue Cross was amazing. You didn't even need to submit a receipt. Just type in the amount, date and enter. It was in your bank account the next day.
Manulife is cheap. No wonder. Because nobody wants to use them. They give me trouble every single time. Good god I can't stand them.
Great start to the day. Oh well. On the plus. Ayden is feeling way better. Can probably go back to daycare tomorrow ! He coughed a bit this morning but he's doing great now.
Tyler, I am constantly writing letters and making phone calls to my various insurance and doctors.
Many times it is frustrating and irritating and you just want to scream. And sometimes I do scream in my office because it's so infuriating.
I remember talking to social security years ago and finally just asked the customer service person because we were going around in circles. I said can you be honest with me and just let me know that you're reading from a card, right?
There are times when the person answers the phone I will tell him right away that what I'm about to say to you and my anger is not reflected on you but the company you're working for so I apologize in advance.
I totally understand that frustration Muse!! And you are so absolutely right ! They are definitely reading from a card…… and you're right. Getting mad at the person doesn't do any good, it's the actual company themselves.
Insurance companies are suppose to be there to help and make life easy, but I swear they just make life extremely difficult. It's sickening and so angering!!! They just don't give a shit sometimes about peoples well being. They don't seem to understand that not everybody can cover 400 dollars for a few months. That's half my pay cheque. It's just stupid.
2.1 out of 5 lmao. Glad it's not just me hahahaha!!!
Surprisingly blue cross got even worse reviews……
Guess all insurance
Companies suck lmao.
Their first priority is their shareholders, drug company than us.
They're in the business of making money not helping people which is what the consensus is.
The insurance company that I have with the state of North Carolina you have one insurance and different tiers you are not allowed to use a different insurance if you're disabled through them. Also until recently you were not allowed to get a supplement if I got a supplement that would have canceled my insurance. Now you can have a supplement but it's only through them the same tiers repeat and recycle. After I did the math I found out it would be cheaper for me just to pay the coopayment than to get the supplement.
Bottom line, and I tell anyone who is in this position, do not go in disability with the state of North Carolina cause they will screw with you in a way that's not good. If you are disabled with the state of North Carolina you're fighting every inch of the way.
Oh and I found out it got worse. My husband retirement plan he can't have me as the person on file to get his money when he passes on. And the reason is this because I am disabled through the state and if you're disabled through the state you're not allowed to get your spouse's money when they pass on. My husband and I were so p*****. This is the money I would use to pay the house, pay the bills, pay for his funeral etc. But since I'm disabled through the d*** state of North Carolina I'm not allowed. So he put my son down and my son has been told this is your mom's money to take care of things when I'm gone. It is not yours.
And that's not even half of the c*** North Carolina has done to me.
That is so messed up that my husband can't pass on his retirement money to me his spouse.
Wow Muse. That's crazy about the disability. You would think they would be doing everything they can to help, but it seems the exact opposite……. But it's like you said in the first part. They are out to get money and that is that. I'm pretty sure insurance companies in Canada and USA are the second largest money maker. That is their main focus, so you're absolutely right. They just don't care about helping people or giving a shit. If it doesn't get them money, they don't care what so ever. And people like you and me are left frustrated and angered.
It's never easy dealing insurance
Companies. I'm sad we are not with blue cross anymore as they were so easy to deal with it.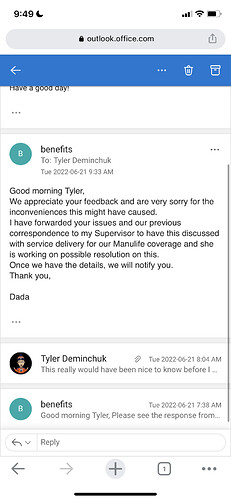 Benefits passed To their supervisor to deal with manulife. Probably still won't be dealt with, but at least they're trying.
I'm trying to explain to a user on PP how to do something. I've done step-by-step. That didn't work. I took screenshots to show them what I'm trying to explain. I don't think that is working. I don't know what else to do.
He has written back and said he has done what I have shown. It is showing nothing is blocked. I'm stumped.

Lol what are you trying to explain?
There's a thread that's missing. Hes not seeing it like he used to. I thought maybe he had put it on ignore by accident. I have done that on a few occasions. But that's not it. So I went to the Clown🤣.