Another game. Another chance to prove we can score more than 2 runs.
Team should be ashamed. Detroit and Pittsburg are putting up better numbers offensively. That's just sad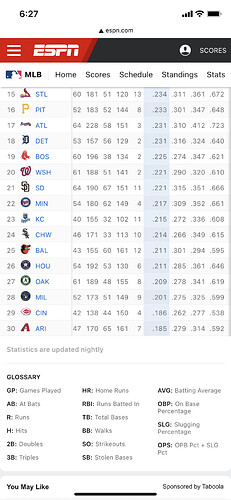 Good morning, everyone

Have a great day & let's get a win
Good morning, my BSU friends

Have a great day!
It appears this will be the daily thread too. That's cool with me.
Babe Ruth travel ball officially kicks off tonight (weather permitting) so the distraction of my own kids' ballgames can't come at a better time with the way the Sox are playing.
Pretty much baseball every day/night through June. Favorite time of year.
I think it's easier to do it this way personally. The daily threads don't get used that much anyway When it's Red Sox day.
That is awesome man! Enjoy!!!
I will go home, eat some weiners and beans and endure another painful Sox loss lmao.
Hope everyone is having a good day.
Thanks, all. I have two teenage boys playing on two different travel teams. My youngest is supposed to start on the mound tonight and he is very excited. I will absolutely choke a bitch* if it gets rained out.
*Mother Nature
Fingers crossed for you man, I hope it doesn't get rained out that would be super dissappointing. Tell your kiddo to go kick some serious ass!
Hope you get good weather as well but if you happen to "choke a bitch" please record it for us.
I second this message lol.
I also second the fact that the Sox should score more than 2 runs. 8 of their last 9 games now 2 runs or 1… That is record setting bad lol.
Pleeeeeeease… Who do I look like, Amber Heard?