Good morning, everyone

Enjoy your day!
Morning all! I'm home today with my sick boy.
Hope everyone has a great day.
I hope Ayden feels better real soon

Good Tuesday morning, everyone

And yes, I hope Ayden is doing better

Thanks folks. He's coughing like crazy. His asthma is brutal when he's sick.
Oilers lost again. Well out of a playoff spot. Season is starting to look toast.
Good morning!
I was hoping little man would be feeling better today. Dang it.
Ya he will likely be home all week. His cough lasts forever and ever. The one annoying trait he picked up from his mom. When Leah is sick she coughs like you wouldn't believe for days. Ayden is the same exact way. Ugh it's exhausting. Well here's hoping we don't get fired from all these fucking days off being home with him.
I wish there was more we could do to help you out. I would in instant help out so you would not miss so much days of work. Poor little guy, Leah and Tyler.
Thanks Muse. You guys rock. I know if you were here you would do what you could. We will survive, just frustrating having a kid that gets sick constantly. Also doesn't help that leahs family lives out of town and my mom works full time so we don't have much help from family the way others do.
On a much lighter note, I made a coffee. That makes me happy lol.
Hang in there, Tyler.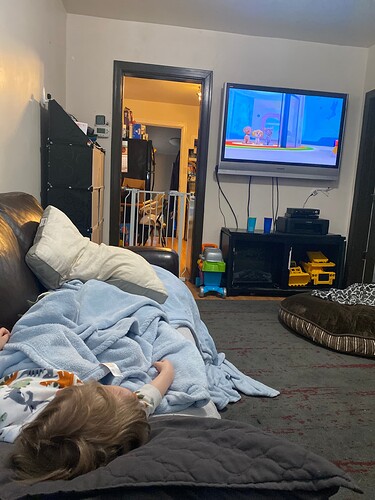 Watching paw patrol. Doesn't want to do much today. I might eat a banana
No banana milk. Just banana

If nothing else, you can vent about anything to us. We got ya, we will listen. Gosh I know you all have listen to me enough, I have taken advantage of that.
It is odd since it is rare I talk about anything about myself online especially on PP but you guys are different and special.
That's what we are here for. We family

we listen to each other. And I know what you mean. I'm on the oilers board and colts board but I never share anything personal outside of "I'm gonna have a whiskey while the game is on"
Pretty sure both boards don't even know my actual name and if I have a kid hahahaha. This board is pretty special

This in a nut shell.
Grateful UT keeps it up and running.
This. Sending virtual hugs

Me too Muse!
Thanks Joolz!!!
Wow rodgers signs 4 year deal with Green Bay.
Wow. I thought he might end up In Denver