Morning all. Have a great Monday.
Good morning, friends

Have a great day!
Good Monday morning, friends.

Have a great day.
Good morning my online family!
Hope today is a great day
Jack, thanks again for remind me about the time last night. I appreciate it.

The talent he taught that moved onward to the pros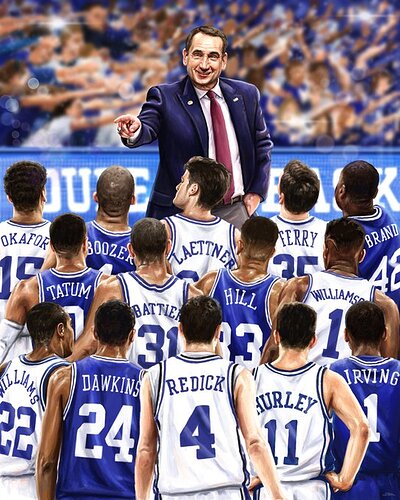 Jack, I am watching the celebration of Coach K from Sat. I can only watch it in icrements of 10 min since I start to cry like a baby.

Friggen love this school, team and Coach.
I try to not get angry at the idiots who can't truly appreciate him , those outside the walls of Cameron Stadium. They can't appreciate the end of an era for college basketball in NC with now all the great head coaches from our schools now retired.
I can't do the Twitter and etc at the hate I saw.
But yeah, 10 min is all I can do, LOL.I still have about 30 min left of the after game festivities.
What a baby I am. LOL
I've never understood the hate for Coach K & never will. I'm looking forward to the tournament.
There use to be quite a bit of it on PP. No matter what I posted I would get slam with it. Most of those people have left but there are still some left.
I am not a fan of UNC at Chapil Hill, never will be. But the coaches they have had and add Duke has placed college basketball and this state on the map. UNC did not do it alone, nor did Duke.
So much hate. He is a treasure. I am proud to be included in the fan term all Duke fans know, the Crazies. LOL
Jack, I have about 12 min left to watch. LOLOL Getting there. I have not done the pregame festivities yet, UGH.
LOLOL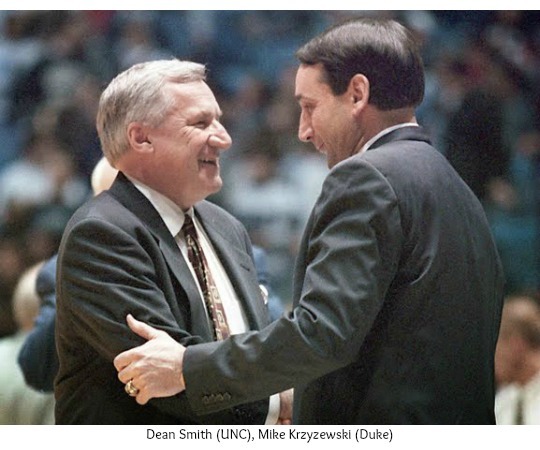 That is ACC basketball to me
Love the picture, saving.
Mike said a bit ago that he is not going anywhere. Durham is his home and also the coaches can easily reach out for x, y, and z.
Smith was the devil to us with him being so damn good. What a great rivaly, what a great time frame for our area. I am grateful I appreciated it more than hate it.
It will be a while before we see such a collaboration of talent at HC at these two schools and against each other.
Help me when Saban retires. I am so not ready for that. Thankfully he said he is not there yet.
That's it. Between the two all they have won, that is college basketball that is ACC.
I had forgotten in all the accolades that Mike coached three olympic basketball teams to gold.
And the NBA players respected & listened to him.
I tell ya, Jack, everytime a team offered to hire him in the NBA secretly I would think, no, no, please no, pretty please, NO. LOL
And as hubby said, why would he leave when he is basically a God at the school? but we both know that is why he didn't stay.
Crazy busy day
Hope everyone is having a great day!!
Busy day of puttering around the house and trying to clean so I feel like I did something, Tyler. LOL
Great news
We put on teletubbies for ayden this morning and he got mad and told us to shut it off lmao
Clears up that horrific horrible scenario
I'm paraphrasing here but I think last year K was asked if he had any regrets not going to the NBA. He said no but if he were younger & the way college B-ball is now he probably would. I don't think he is a fan of the one & done players & maybe how dirty recruiting has become. I have no doubt he would have been successful if he had made the jump.
I think you brainwashed him! Give the boy his Tubbies!!
Try again, he might change his mind.
LOLOLOL