Happy Sunday folks.
Getting up to pee. Back to sleep.
By the way. The heavy topic is me peeing lol. Also I think someone was gonna Break into my car, and I turned on my patio light and he ran away, so kind of crazy lol. Chased him away
Anyway night folksy
Good morning, friends

Have a great day!
Good morning, everyone. Have a nice relaxing Sunday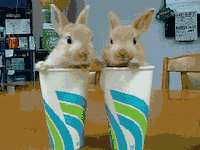 Morning all !!!
Hope you all have a great day!!
The heavy topic continues of me peeing.
Just finished.
Omg!!!
That rabbit is absolutely massive. Holy shit
Lmao right hahahaha he's massive
That can feed a family of four easily. Wow.
Happy Sunday, everyone.
Watching a documentary don't fuck with cats. Beyond disturbing. This is a guy I could easily watch burn to death, and I wouldn't flinch
Im getting an assorted sub for lunch
Pickles
Lettuce
Tomatoes
Onions
Mustard
Ranch
Mayo
Italian sauce
Mmmmmmmm
I think I watched one episode and said nope, no can do.
Yum and yum.
Hubby is making short ribs for lunch. Can it be 1 pm like right now? LOL
Weird thing I do with subs. I order them dry, no mayo, mustard or oil. I lightly zap them in the microwave to melt the cheese (usually provolone) and make the bread soft.