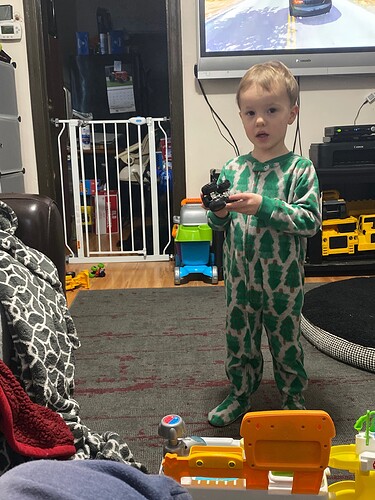 Ayden totally could have went to daycare today haha. I think he was faking sick to stay home today lol. Little bugger. Seems perfectly fine right now haha.
About the same. Cold and flu medicine delivery shortly.
We will keep asking until you tell us you are, you know this right?
LOLOL



He wanted to stay home and play with dada.
Been a rough few days for you Joolz. Hopefully the medicine helps!
He is such a cute kid. He takes after Leah.




he sure is/does
He lacks my natural van damne boyish good looks though.
Obvioulsy. LOL
Listening to Ed Sheran(sp) will get on to my 80 and 90 music soon
Ed Sheran is brilliant. Love his music!
Agree. Just finished living to Shiver twice. The video is hilarious.
Hmm, what should I listen to next?
I am in a good mood SOOOOOO I will call Goodyear and my insuarance tomorrow.
BSU will have to wait for my rant tomorrow.
LOLOLOL
Wow thee as t is a blast from the past hahaha!
I'm listening to the paw patrol theme because Ayden is watching it lmao.
I'm about an hour or so we are leaving to get that jacket. Might get Ayden some fries from McDonald's and I might get a Big Mac
Muse, what's your fave thing to get from McDonald's ?
The Quarter Pounder simply because the one I go to they cook it fresh, they wait until it is ordered so fresh. Apart from that chicken sandwich/nuggets or fish sandwich.
You?]
And yes their fries.