Enjoy your day with the fam, Tyler
Eagles not looking real strong today.
Hope everyone is enjoying their Sunday. Couldn't visit my ma today because her place is on temporary lockdown due to Covid. I was able to FaceTime though.
Awe glad you got to face time at least my man. Covid is ruining so much shit.
He's so bias to the cowboys I hate it. Even in this game he's currently talking about Dallas lol. He irritates me a lot. But I have a hatred for Dallas lol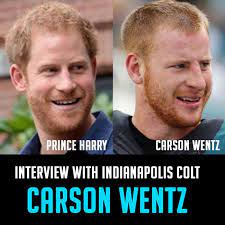 Another face you could punch
Or shoot
I don't like them either. Not one bit.





I want the 49ers to beat Dallas for sure. I like Jimmy GQ
Same man. I like Jimmy's. Wish Indy had him
Then again I would take Kermit the frog over fuck face prince Harry.
He might be available.
Jameis Winston will be a free agent & he can play.
I would even explore Gardner Minschew
Ya I heard rumors about Watson too. He is first choice even though he's in some trouble. I would look at all those guys though. I don't think wentz will start next year. Or maybe go with what they currently have in Ehlinger.
Uh oh. Leah is getting ready in the bathroom she has flyball practice soon and I have to go number two
Not good.
What's flyball?
And yes you're in big trouble, partner
Thanks, Joolzie. As always.
80% chance I doze off during this next game.
I'm not watching the games