From the Athletic.
Who is the real 'Zo'? Inside the Patriots radio booth with the brash, restless, talented Scott Zolak
Steve Buckley 2h ago
7
My routine for following the in-season, week-to-week adventures of the New England Patriots is as follows: I am either at the game covering them or at home on the couch watching them. And watching the Patriots, at home, on the couch, means being informed/entertained by A-list network talent, heavy on Jim Nantz and Tony Romo, with halftime shows featuring former football stars who have traded in their helmets and shoulder pads for fancy suits and wide ties. And they're good, these former football stars. All of them. Even the ones I don't particularly like — and come on, we all "like" and "hate" sports announcers for reasons that range from illogical to Seek Medical Attention Immediately — generally know what they're talking about and are privy to all kinds of information they dutifully share with us. My only real problem with ex-jocks is the super-wide ties, as in wider than a Manhattan sidewalk. They look goofy.
And speaking of goofy, let's transition to Scott Zolak, the former Patriots quarterback from the Foxboro Stadium days who has gained greater fame as midday host with Marc Bertrand on 98.5 The Sports Hub and, more importantly, as color analyst on the Patriots Radio Network.
It is Thursday night, Oct. 10, and the Patriots are hosting the Giants at Gillette Stadium. But I am not in Foxboro, nor stretched out on the couch. I am on a dark road somewhere in Connecticut and the radio surf button has directed me to Hartford's WTIC, an affiliate on the Patriots Radio Network. I am listening to play-by-play stylist Bob Socci … and I am listening to Scott Zolak.
This is a Zo I barely know. Oh, I know the quarterback , the guy who played for the Patriots from 1992 through 1998, a blink-and-you'll-miss-it starter early on who then carved out a nice career as Drew Bledsoe's back-up. Right from the beginning, stoicism was not in Zolak's playbook. He made four starts (including the only two wins) for the 1992 Patriots, bowing and pointing, dancing and preening, left and right, up and down the field, Sunday after Sunday, and, man, did everyone love that guy.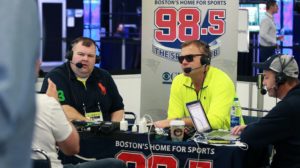 Zolak has become a cult favorite for Patriots fans in his role as the radio analyst. (Jim Davis/The Boston Globe via Getty Images)
A favorite personal memory of Zolak's playing days with the Patriots takes place not in Foxboro but in Monongahela, Pa. I had traveled to Zolak's hometown for a magazine piece I was writing on native son Joe Montana, and I asked the kid who was doing the quarterbacking at Ringgold High School, a senior named Jamont Kinds, if he had a picture of the Hall of Fame-bound quarterback taped to the door inside his locker. Turns out his locker contained a photo of the other Ringgold High School graduate working as a quarterback in the NFL: Zolak.
"Jamont — Good luck," Zolak had written on the photo. "Kick ass and stay focused. Go Rams! Scott."
Kinds, who would later focus his way to a football scholarship at Syracuse where he played in the defensive backfield, explained that he did have a Montana poster on the wall of his bedroom, as well as a Zolak poster. But Zo got the space inside the locker because he was around more often in those days, still the local guy. It didn't hurt that his father, Paul Zolak, was Ringgold High's athletic director.
That's the Scott Zolak everyone got to know. Good ol' Zo! Yes, he did have to tone it down a little in 1993, or so the story goes, because that's when Bill Parcells arrived to do the coaching and Bledsoe arrived to do the quarterbacking. During the Tuna's first training camp with the Pats he did a quick study of Zolak and then told the media, "Sometimes it seems like there are two of him, and the other guy is Zo. You know … the sunglasses, Guns N' Roses, the truck and the girls around him. That guy can't play quarterback. I know that. But so far Zo hasn't shown up. Scott Zolak has been here the whole time and he's doing all right."
Zolak … and Zo. But while an alert, survivalist-minded Zolak may or may not have stashed the Zo persona in his locker once the Tuna took over the classroom, life went on either way. And now, in 2019, the Zo/Zolak tandem shares the radio booth with Socci. One could say there's Zo, whose zaniest stuff sometimes gets re-played on The Sports Hub's various talk platforms — Har, har, har, did you hear what Zo said??? — and then there's Scott Zolak, the prepared, focused and quite colorful color analyst.
It is not, however, as simple as that. Yes, Zo is the goofy kid, Scott Zolak the responsible grown-up, if that's how you choose to play it. But what I discovered during that drive through Connecticut is that Zolak's "Zo" persona plays a much more significant role than providing in-game entertainment. It's a complicated and precise timing mechanism; without it, some of the in-game analysis from Zolak would suffer.
Put another way, a lot of the Zo stuff serves as a placeholder. Socci will call a play, and sometimes Zo will say something bombastic, accusatory or otherwise over the top, or sometimes it's just a grunt or a simple "uh-oh," or "yeah, yeah." All of these are placeholders. Socci might then drop in a word or two, and then … bang: Scott Zolak, game analyst, breaks down the play as though he just spent three hours watching it, over and over and over, in the film room. With Bill Belichick sitting next to him, explaining the tricky parts.
Sometimes, too, the bombast and the spot-on analysis are one-stop shopping, with Zolak saying something that's funny/over the top/in the other team's grill, etc., and yet, if you listen closely, there's a pretty good breakdown of the play in there. A lot of it depends on what you're looking for. If you want goofy, great. If you want X's and O's, excellent. Everyone wins.
It also occurred to me while driving home from Connecticut that it's possible Zo/Zolak's physicality in the booth, how he moves, when he moves, plays a role in all this. There's so much rhythm coming out over the radio when Zolak speaks that it's doubtful he's just some guy wearing headphones and sitting in a chair, like the broadcaster in every sports movie you've ever seen. (Picture Bob Uecker's Harry Doyle character in "Major League.")
Having decided that writing about Zolak required seeing him do a game rather than just listening to him on the radio, a process began by which phone calls were made, text messages sent, emails exchanged, and, ultimately, corporate permissions granted. On Sunday, October, 27, Patriots vs. Cleveland Browns, Gillette Stadium, a seat directly to Zolak's left was reserved for me.
The home radio booth at Gillette Stadium is just about the best place on earth to watch a football game. It's a two-rowed frat room in the back of the lower bowl, right at midfield. It's messy and unkempt, as these places tend to be, but there's a nice photo on the wall of the late Patriots play-by-play man Gil Santos and his longtime color analyst, Gino Cappelletti, and the photo gives the joint some class. (Cappelletti, the all-time leading scorer in the history of the late, great American Football League, should be in the Pro Football Hall of Fame. That has absolutely nothing to do with this story except that I have a rule: Any mention of Gino Cappelletti must be accompanied by an assertion that he should be enshrined in Canton. It's an amendment to my Luis Tiant Rule.)
Sitting in the second row is chief engineer Dennis Knudsen, and next to him is Bertrand, who in addition to his daily talk-show duties with Zolak also hosts the pre-game, halftime and postgame shows. I tell Bertrand that Zolak isn't crazy about doing this story. Au contraire, says Bertrand, explaining that Zolak loves doing these stories. The emails to management? The corporate permissions? Turns out all I had to do was show up.
Socci, Zolak and producer Marc Cappello sit in the front row, with Cappello in the middle, at exactly the 50-yard line, because being between the play-by-play announcer and the analyst makes it easier to slide stat sheets, live reads and scribbled-on-the-fly pieces of information back and forth.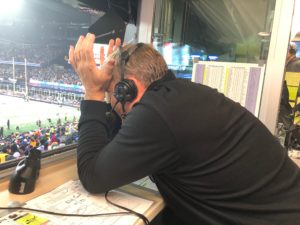 Scott Zolak watching the action from the Patriots radio booth. (Steve Buckley photo)
Socci, to Cappello's left, stands the entire game, bringing to mind the dedicated high school teacher at the blackboard, discussing some algebra conundrum or Lee's surrender at Appomattox. A 52-year-old native of Auburn, N.Y., he is in his seventh season doing the Pats, meaning he has called three of New England's Super Bowl victories. He is out of the Dale Arnold/Sean Grande mode in that he presents himself as neat, prepared and organized, and nothing seems to catch him off-guard. "Before I even got this job I knew exactly who Zo is and what he is, and that he was well on his way to being a cult-like personality," Socci tells me. "It helps me that he is who he is. When I talked with 98.5 I told them I knew he was going to be the star of the booth. I think we complement each so well because of that. My job is to call the play and then get out of his way, and then he analyzes it as well as anyone."
Zolak, black pants, black sweater and the sunglasses that seemed to grate on Bill Parcells, is to Cappello's right. (I'm wedged between the two of them.)
"Just like doing a game with Joe Castiglione, eh?" says Zolak, referring to the longtime radio voice of the Red Sox. "A Diet Coke, some water, a couple of cups of coffee and a Sudafed and I'm ready to go."
To emphasize that last part — ready to go — he slams his hand down on the table, hard, twice. And then the game begins on this cold, windy, rainy late October afternoon, with the Patriots' Brandon Bolden returning Austin Seibert's kick 24 yards to the New England 30.
So let's get right to this: It's not that Zolak sits or that he stands but that he's often hovering somewhere in the middle. He will lean back in his chair, lean forward, roll his eyes, place a fist under his chin, remove the fist from under his chin, and then pull his binoculars to his face. Then he starts to lift himself up but seems to change his mind, and now he slams his ass back down on the seat and slaps the table. He repeats the entire process — lean back, lean forward, roll eyes, fist under chin, remove fist from chin, binoculars to face, half stand, sit down, slap table. There's lots of that. He would later open a bag of Miss Vickie's Smokehouse Barbecue Potato Chips and spill the contents onto the table in front of him, pick at them a little, and then, during a stoppage in play, bring down his hand like Thor's hammer and reduce the chips to an orangey powder. Miss Vickie, who made those chips with "Love & Care" (it says so right on the bag, Zo!), would not have been pleased.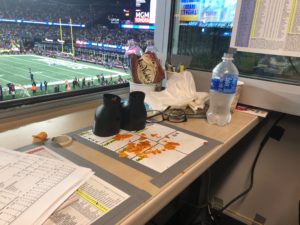 The effect of Zolak's work in the booth on Miss Vickie's chips. (Steve Buckley photo)
Early on, a flag is thrown following a short incomplete pass from Browns quarterback Baker Mayfield intended for Jarvis Landry, and Zolak takes a stab at predicting what the infraction is going to be: "It's either a holding on the defense or a pick."
The call is on the Browns, ineligible man downfield.
"Or that too," says Zolak. "One of three options, just like Adam Schefter has his three options that Tom Brady can use," referring to the ESPN reporter's recent hot take that the New England quarterback is either staying with the Patriots after this season, retiring, or playing someplace else.
That's a good comeback by Zolak.
Brady fails to connect with newly-acquired receiver Mohamed Sanu on third-and-7 at the Cleveland 33. The Browns burn a timeout, and that's when Zolak uses one of his placeholders: "Here we go, panic setting in already." He then explains why the Patriots aren't likely to attempt a 51-yard field goal — citing the weather and the inconsistency of kicker Mike Nugent — and then he picks up on something as Socci returns to the play-by-play.
Socci: "Mohamed Sanu goes to the right slot, and with Phillip Dorsett outside his right shoulder. Meanwhile, Edelman is slot left, inside is Watson. …"
Zolak: "Edelman's got a backer on him."
What follows is a throw down the middle to Julian Edelman for a gain of 10 yards, and as Socci is describing the play we have Zolak launching what amounts to a broadside against Browns coach Freddie Kitchens and his staff.
"Excellent job, call time out to say, 'Let's go zone' with two linebackers over Julian Edelman, the stick mover," he hollers. "What a stupid defensive call this is. Do you not watch film three weeks prior? Do you not know that he goes to this guy every third down? And you put a linebacker on him."
Fun stuff, that, and what jumps out is that:
Zolak has already sensed what he believes is Cleveland's looming unpreparedness by calling attention to the timeout.
And he picks up on how Edelman is being covered and quickly delivers his observation as Socci, unfazed, keeps talking. Asked about that later, Socci said, "During the course of the play I try to focus as hard as I can on calling the play even as he's reacting to it."
It's not a question of Socci giving Zolak time to talk after the play-by-play. Socci manages to stay out of the way during the play-by-play. That kind of thing either works or it doesn't; with these two it's seamless.
The Pats move the ball to the Cleveland 2, and here's Socci on third down: "Takes the snap, play fake to Bolden, slides to the right, he goes to the end zone, and it's nearly intercepted, should have been picked off."
Zolak placeholder: "Terrible!"
Socci: "Brady also able to avoid a hit from the blind side, releasing that pass just in the nick of time."
Zolak analysis: "Brady's giving it to Dorsett a little bit here, he thought he pulled up on that route. Just avoiding disaster again here. I mean it happened in Buffalo, it happened with the Redskins."
(The Pats settle for a 20-yard field goal.)
On the Browns' next possession, running back Nick Chubb fumbles at the Cleveland 22.
Socci: "He is swallowed up, the ball is loose, picked up by the Patriots …"
Zolak placeholder: "Go! Wooooo!"
Socci: "… on the run, into the end zone, Dont'a Hightower! Touchdown, Patriots!"
Zolak analysis: "Boo! The boogeyman strikes again! Oh, man, I mean, when is this going to stop with this defense, turning the football over, not only turning it over but it's the scoop and the score, and you got this guy, fresh as lettuce. This is as good as Dont'a Hightower has looked through an eight-game stretch. His own guy kicks the ball out of Chubb. How many times have you seen teams? We talk about weather, they come in, they can't handle the elements. This is a team that's built on a lake, with lake-effect snow. They should be used to this!"
Here, Zolak has hit on a theme he's going to reference throughout the game: It's cold and wet, and his perception is that the Browns can't handle it. He takes particular offense at the number of Browns players who have taken refuge under those long, orange throw-backy capes that cover virtually the entire body. It's a lame take, since the capes do keep players dry, and in point of fact some Patriots players are wearing them … but more Browns are hiding under them and, anyway, their bright orange color makes the players all the more noticeable and inspires Socci to point out that the Browns' colors are those of candy corn. Zolak observes that candy corn is lousy.
With 2:36 remaining in the quarter Mayfield attempts a sort of underhand pass that travels only a few feet and into the eager mitts of the Patriots' Lawrence Guy for an interception.
Zolak placeholder: "This might be one of the dumbest, most talented teams we've ever seen at Foxboro."
Before proceeding to the analysis, let's consider the beauty of that last bit of bombast by Zolak. For if you break it down on the Telestrator — or, Belestrator, a contrivance from the weekly "Patriots All-Access" television program that features a segment in which Pats coach Bill Belichick joins Zo to break down a play — one can see that Zolak is actually complimenting the Browns in terms of their talent. He had been praising Chubb during the week-long run-up to the game, and had nice things to say about Mayfield. It's what he perceives as the team's inexhaustible dumbness that's now boiling Zo's blood.
Zolak analysis: "Baker Mayfield flips the ball to Lawrence Guy, who's a free rusher, right in the middle. He's looking right at him. And he just throws it to him."
Socci: "You're right, I thought it was on the mesh, and Mayfield underhanded it to Lawrence Guy."
Zolak, now abandoning analysis in pursuit of more bombast: "Who tosses it underhand anyway . . . it's like he's on the take."
On the mesh, on the take. Whatever.
Two plays later, Brady connects with Edelman for an 8-yard touchdown.
Zolak placeholder: "I mean I'm looking at the Cleveland sideline, they've got 23 guys with capes on. Like they've never played in poor conditions. You turn the ball over three times in the first quarter, you don't win at Gillette Stadium."
Zo analysis: "Great patience by Brady in the pocket, slides up, throws a little easy dart like he's at a bar. Hitting the dartboard to Edelman, who keeps the play alive and slips right over that goal line."
Having settled down some by now, and taking a break from counting the Browns' capes, Zolak returns to the Mayfield interception and offers up some for-real analysis: "We've seen teams do that jet sweep or the shovel pass but all it is, it's a quick snap to the quarterback in the gut, it's basically just a little chest pass. But Mayfield took the snap and took this big, deliberate step off his left leg and in a big, sweeping tossing motion that anybody in the stadium could read."
The first quarter ends. The second quarter begins, and Zolak seeks out new opportunities to question the manner in which the Browns are being run, such as when Mayfield completes a short pass to Antonio Callaway on third and 19.
"They didn't come to play," he says. "They're happy just throwing a hitch on third and forever, and then kicking. How many times have you seen third and long and it's just, we're gonna run a screen and then we're gonna run a little quick out. There's no pressure. That wasn't a hot route. It's just, we're fine punting and giving your quarterback another possession."
For all the talk that Zolak is a homer — and we will get to that — some fingers are pointed at the Patriots, too, after Brady is sacked for a loss of 4 on third and 6.
"This line's got some problems, man," he says. "Again, (center Ted) Karras squares in the middle, I think Teddy Karras blew that call. Teddy thought he was going to have a defender over him, he had nobody. That guy bailed. Teddy could have kicked that line to the left to the right side. You just wonder if on that kind of front (the injured David) Andrews would make a slide right call. Good job on Cleveland designing that."
After the punt, which New England nearly recovers following a Dontrell Hilliard muff, the accounting department inside Zolak's head goes back to work.
"Sorry to bring this up again," he says, "but I think they just broke a sideline record for capes — 31 capes are deployed on the Browns sideline right now. The entire defense has one when they're sitting on the heated benches."
Socci: "Those go back — "
Zolak: "I've never seen it."
Socci: " — to the Jim Brown, Otto Graham days."
Zolak: "Yeah. Like the Bears. The Frozen Tundra of Lambeau in Green Bay."
Mayfield proceeds to take the Browns on a six-play drive, ending with a 21-yard touchdown reception by Demetrius Harris.
Zolak: "That's too easy right there. Hightower had no chance on this. Left out alone on a tight end. That's part of the chance you take when you're in zero. You got backers covering tight ends who can run. The ball's actually short and under-thrown. It's not a good throw. The ball falls short of the goal line and Hightower has no clue where the ball is."
Wait. What? Hightower has no clue where the ball is? Zolak's supposed to be a homer, right? We will get to that.
On the next New England drive, Kitchens challenges a first-down ruling after Brady completes a 4-yard pass to Sanu.
Zolak: "You can break out a couple more capes for everybody else on the Cleveland sideline that doesn't have any."
The game grinds along. A clumsy seven-play Cleveland drive in the last seconds of the second quarter yields just 14 yards. It's halftime, and the Pats hold a tenuous 17-7 lead.
Zolak: "Get those capes off! Get inside, hurry up."
The second half is more of the same. Zolak, who apparently senses that his cape jokes are resonating with listeners, continues on that course and with straight lines being tossed in by Socci.
Zolak continues to be appalled at the Browns' seeming unpreparedness for this game. He is quite candid when he sees something about the Patriots he doesn't like. And yet he is a homer. We will get to that.
Without wasting a lot of time on the set-ups, here's a brief second-half sampling of Zolak:
"All right, let's see what kind of adjustments (the Browns) make here coming out of the half. Just awful, awful strategy and clock management by the Browns to end that first half. A little bit over their heads there. Not a sense of urgency. Mishandling of timeouts."
"(Odell Beckham Jr.) is getting frustrated here, turning around, screaming at Mayfield. The grass is not always greener on that other side, is it? I mean the clippings, though, you read everything, and every time you turn on the TV this summer it's Cleveland this and Cleveland that, the barrel-chested quarterback this, the moxie, and broadness, and … nuthin .' This looks like a (college) team."
"I have never seen anything more stupid than what's going on right now. This is a clinic on stupidity. I mean, this is fireable. (Kitchens) was going to punt! He was going to punt, they had a false start, backed 'em up five more yards after the decision to punt, then said the hell with it, let's go offense."
(Mayfield is sacked on fourth and 16 on the play after the Browns were going to punt on fourth and 11): "Stupid is what stupid does. Unbelievable . . . Hey, (Kitchens) set the tone for the week. 'We ain't goin' up there to play a regular team. These guys are different. We gotta do something different.' Boy, just throw out your playbook, throw out everything you know about coaching. Just act like you haven't watched one snap of film the entire week. What a coaching mismatch."
(After Nugent boots a line drive on a 34-yard field goal attempt that goes wide left): "It almost killed somebody over there in section one-twen-, what section is that down in the corner? Oooof."
The game ends with Hilliard carrying the ball for 10 yards until being tackled by Jamie Collins. Final score: New England 27, Cleveland 13. Socci sums up the game and then does a toss to Zolak, who is pleased with the Patriots' effort but brings a sense of foreboding to next week's game against the Baltimore Ravens.
"Eight and ohhhh, baby," he says. "That's half the season, you've hit every goal so far, but a tough one next week in Baltimore. That place won't be like the Redskins down there. Different football team, same neck of the woods. That place will be all amped up."
Now he is out the back door, takes a left in the concourse and then makes his way down through the lower bowl to the field. Helpful ushers, wise to this drill, clear a path for Zolak as he bounds down the steps, headed for the "Patriots Fifth Quarter" program he does with Channel 4's Steve Burton.
A couple of things you need to know about Scott Zolak:
1. There was a promise that the homer issue would be addressed. For openers, there's this: Zolak hates the tag. Really does. He knows people, even Pats fans, see him as a homer. Hates it.
2. While he loved his time playing for the great Bill Parcells, he's not big on the Tuna's oft-stated observation that in those days there were two Zolaks.
Let's start with the talk on the streets that Zolak is a great, big homer.
"It's complete bullshit," he said during a sit-down a few days after the Cleveland game. To help make his point he invoked the name of one Tommy Heinsohn, the Basketball Hall of Famer and revered longtime Celtics television analyst.
"A lot of people think I'm a homer, and some of my calls are over the top, where you get the Tommy Heinsohn effect," he said. "And look, I love Tommy. I've been listening to Tommy since I've been here. But Tommy, I think he made another Bill Russell comparison last week. I won't go as far as Tommy in that respect, but when there's a great play, my job, being the radio guy— my dad gave me the best advice when he said, 'Paint that picture. Pretend you're talking to somebody with their eyes closed. You can't just say it was a great pass.'"
Besides, it's not like Zolak can't be critical of the Patriots. During the Cleveland game he criticized Karras, Hightower and Nugent, and on a couple of occasions referred to "a bad pass by Brady right there." During our interview he referenced former Pats cornerback Kyle Arrington, admitting that he once said that "Arrington must have pictures of someone to be out there playing."
And then there was the Patriots' 41-33 loss to the Philadelphia Eagles in Super Bowl LII. Days after the game was over and he was back doing his midday show with Bertrand, Zolak was still professing that it was "not a football decision" that Malcolm Butler did not play. "You can't convince me for the amount of snaps that that offense had for Philly that the defense (New England) out there was better without Malcolm Butler," he said. "You can't do it. You can't do it in a football room. You can't. Because if you can, then I don't know football. It's, it's sad, because you had that game." And it went on like that, with Zolak wondering on air why Belichick didn't send Butler out to the field once he saw how the game was going: "Maybe OK, sit, whatever, get out there for a series … if it's not working then get the hell out of there. But he didn't play one defensive snap."
He also criticized Jordan Richards, who got burned on a 55-yard completion by the Eagles' Nick Foles to Corey Clement late in the second quarter.
"He should never be on the field — ever. Ever, ever, ever," Zolak said on the midday show. "He doesn't get any better game to game. Horrific angles, horrific angles … nobody said he's not a good guy."
Richards was traded by the Patriots in August 2018 but resurfaced with the team this season as a free agent. That's OK, said Zolak, as long as the Pats only use him on special teams.
The Pats only used him on special teams — for three games. Richards was released on Oct. 22.
Nearly two years later, Zolak has slightly revised his take on Richards' Super Bowl performance.
"Jordan Richards isn't a cover guy," he said. "But you're down bodies so now all of a sudden it's next guy up. Unfairly, maybe Jordan Richards got a little more criticized than maybe the decision should have been."
Either way, Zolak was criticizing the Patriots , which is not what homers are supposed to do.
"When it's bad, I hammer 'em," he said. "But I think fans around here think I'm 100 percent homer. Hey, I'm on Twitter. I know what people are saying. But when the Patriots screw up I go nuts. I've said, 'Come on Brady, set your feet. Let's go.'"
And remember, Zolak closed out the Pats' victory over Cleveland by explaining that things wouldn't be so easy the next week in Baltimore. And they weren't: Ravens 37, New England 20. Undefeated season: Kaput.
In the fourth quarter at Baltimore's M&T Bank Stadium, as the Ravens survived a New England comeback and expanded their lead, Zolak started to get testy. He referred to a Brady pass to Sanu that was nearly intercepted as "a dangerous, dangerous throw, all the way back across the field." And then Brady did throw an interception, which inspired Zolak to tick off a growing list of grievances — "… an interception, jumping offside, resetting downs, giving them seven instead of three. …"
He did, however, manage a moment of levity. When their audio feed picked up Belichick giving an earful to a game official — "He tackled the fucking guy!" — Zolak guffawed and then offered a cleaned-up version: "He tackled the effin' guy! He wants a holding call, I think, on that side."
Zolak was subdued after Ravens quarterback Lamar Jackson plowed ahead for a 1-yard touchdown run with 3:19 remaining. But then Pats tight end Benjamin Watson caught a 5-yard pass and could not get to the sideline before the two-minute warning, prompting Zolak to say, "He's gotta get out of bounds. You're down 17. I know it's doom and gloom anyway, but you gotta compete and understand the position."