I would absolutely bring you there.

Go to the last page of Lamar Jackson thread on PP, the last page or two.




Jack, Pipe Francis has been admitted to the hospital. He is one of my favorite pipes we've had.
I saw as well & yes I like him very much
Muse,
we still gonna be friends when the Oilers smash the Bruins in the Cup final?
Shit, I have told you before, when the Celts an Bruins are doing fantastic in the same year, they both find a way to both screw up .




Hahahha.
So here is a question, and this might be tough.
If you had to choose one to win it all who would it be? Assuming both couldn't win… Would you rather the Bruins win the cup or the Celts to win … whatever the NBA championship is called lmao.
As much as I love my Sox to death… if I had to choose between the Sox winning it all this year or Oilers I would have to go Oilers only because the Oilers haven't won in almost 3 decades lmao… I have seen the Sox win 4 times since 04… But any other year I pick the Sox…
Tough call but since Bruins won their championship last, I would say Celts since they have unfinished business from last year. I really want this squad that I so enjoy watching to win before they are broken up.
Totally makes sense!! I get it. Both teams have been a lot of fun to watch this year. I don't watch basketball as much as other sports, but both clubs are fantastic… Bruins are on another level this year. It;s hard to imagine anyone stopping them come playoffs.
Celts biggest challenge obviously will be the Bucks! I bet the conf championship comes down to those two teams… Maybe Philly.
I am blessed since 2000:
Patriots 6
Sox 4
Celtics 1
Bruins 1
This doesnt count the 16 championships the Celtics had before 2000 and the many Stanly Cups the Bruins have before 2000.
Title town aka Boston. This picture is not current. The Pats have 2 more and the Sox one more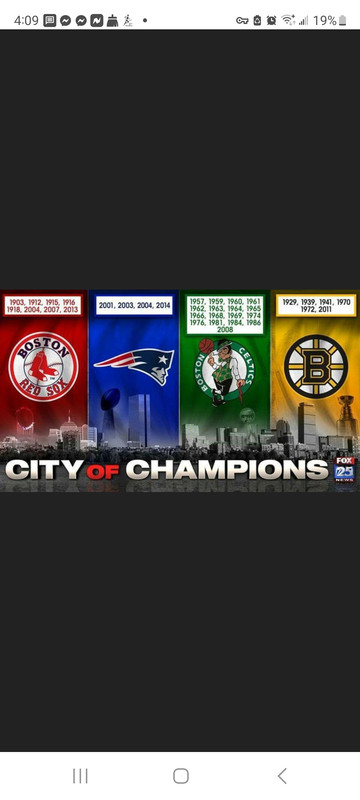 That is a ridiculous amount of titles.
Other than the Sox I have see one title win from Indy… and none from the Oilers lmao
Ive seen so many, so fortunate
Hey Joolz,
in the typing test I did on typeracer (Which is WORLD WIDE) check out the spelling of flavour! WITH A U!!!
Recognize!!! Mic drop
You should have said recognize and drop the mic.





37 titles altogether for my boys
Totally added that in LMAO!
You guys wanna hear a piss off?
The union agreed that anyone being with the city for 10 years or more will get their sick days paid out if they have some when they leave… I have been here 7 and have 51… I don't get any paid out when I leave… How fucked up is that? Could have been a nice 8,000 cheque… instead… I get nothing.
I hate this government cheap shit… Looks like I will be taking a ton of sick days for the next few months assuming I get the RCMP job

Forcing my hand. What a joke… I am a good employee by not calling in sick and I get rewarded with nothing. What a total fucking joke!
BRB. Off to Google Translator.
I even spelled it wrong lmao, I meant cheque… Bahha.
Anyway, I am highly annoyed! Cheap bastards.