From the awesome site The Athletic.
'That's when you knew right then and there': Behind the scenes memories of Tom Brady's tenure at Michigan
Jeff Howe Nov 14, 2019
52
Tom Brady pulled off some things at the University of Michigan that undeniably foreshadow his accomplishments as the megastar of the New England Patriots.
Those five years on campus laid the groundwork for an astonishing NFL career, offering an extended glimpse at his competitive fire, his free spirit and his penchant for overcoming mountainous levels of adversity.
Though nobody saw Tom Brady morphing into Tom Brady , hindsight can provide a cool peek behind the curtain at the college kid who would ultimately produce similar stories in the pros, while becoming the greatest to ever play his position.
"There are some people that will say, 'Yeah, I saw that.' They're all lying to you," former Michigan right tackle Jon Jansen said. "You could not foresee this in anybody."
What they did see was a maniacal worker and competitor who overcame adversity during every season at Michigan. It's amazing, in hindsight, how much Brady endured just to get onto the field in college.
Brady's career at Michigan ended 20 years ago, but the memories remain fresh. The Athletic spoke to numerous people who spent time with Brady in Ann Arbor, and they shared some extraordinary anecdotes, from his exhausting climb to the top of the quarterback depth chart that included a threat to transfer, competitions with Brian Griese and Drew Henson, the many ways Brady won over the Wolverines during his time on campus and a beer bong named Betsy Butkus.
Brady arrived at Michigan in 1995 as a decorated quarterback from San Mateo, Calif., and was also well-known as a baseball star. The catcher would have gone much earlier in the 1995 draft than the 18th round to the Montreal Expos if he hadn't already informed teams of his intention to play college football.
Jon Jansen, right tackle : He was just a kid from California with long hair who came in to play quarterback.
Scot Loeffler (former Michigan quarterback who became a student assistant and graduate assistant working with the QBs) : The first impression is he's long-haired, a little pudgy, then you got to know him and he's the nicest guy known to man. The first impression was, gosh, look at this California guy, long hair, looks like a surfer.
Jon Falk, former equipment manager : Tom is one of the nicest guys on the football team. He was quiet, didn't say much his freshman year.
Loeffler : The time you knew he was going to be a really special player, it was his freshman year in the spring. It was a Saturday morning, and coach (Lloyd) Carr made Tom go live against the first defense and he's running the second offense. He literally got the dog beat out of him. I've never seen a Michigan quarterback in practice take an ass-kicking the way he did. I remember (quarterback) Brian Griese and I standing next to each other watching this kid, and he made play after play after play while just getting his ass handed to him. He just kept getting up and kept fighting.
Tai Streets, wide receiver : They would take shots and hit him, and he would get back up and keep playing.
Loeffler : I remember Brian and I looking at each other and going, oh my gosh, this kid is tough as hell, number one. And number two, he is going to be a really damn good player. That's when you knew right then and there, there was something about him, no question about it. If you didn't walk off that practice field and respect that guy after that ass-kicking, and how he kept getting up and making plays, and kept fighting, you were out of your mind. He was tenacious, absolutely tenacious.
Brady worked the scout-team offense in 1995 and 1996. Since he was a baseball catcher, his throwing mechanics left something to be desired as a quarterback. So Brady worked diligently with Loeffler to improve his fundamentals.
Loeffler : He used to throw it like a catcher. He used to wrap the ball around his head, like god-awfully. He fought his rear end off and spent countless, countless, countless, ridiculous hours of changing. I can't tell you how many times in front of a mirror, he's simulating. He is taking stretch bands to try to create muscle memory. He drove me nuts. He would go, "OK, Lefty, let's go for an hour. Tell me if I'm doing it right." He was awesome. How he changed his mechanics was fascinating because it's really, really, really hard to do.
Streets : Him and Loeffler would stay after practice, and Tom would just throw the ball into garbage cans. We'd be joking like, "This guy is a loser!" He kept doing the same thing over and over. We laughed, but it paid off big time. He outworked everybody.
Loeffler : He is awesome. He is everything you ever dream about a quarterback. I love him.
Aaron Shea, tight end : Coming in as freshmen in 1995, we used to play this game called Bill Walsh College Football on Sega Genesis. It was mostly Tommy, Tai Streets and myself. It would get so competitive. Tommy was Florida State, Tai was Florida and I was Colorado. No one could play with Michigan. We would get so competitive. We would get in battles. Tommy took everything he did at 100 percent. School work was 100 percent. I remember he would get mad at me. Occasionally, I would sleep in or my alarm would just happen to not go off. He would come and wake me up and get me to class. He was the ultimate competitor.
He would do his job (on the scout team) like a professional. If he's going to put his name on it, you know it's going to be an A-plus. That was with sports as a competitor, as a student athlete, that's just the kind of guy he was.
Jansen : I do know the defense has talked at length about one of the reasons they were so good – obviously they had Charles Woodson and some great players – is they were prepared for every game because of the looks they got at practice. The level of competition from our scout team was, at times and most of the time, better than the teams that we were playing.
Loeffler : He was always kicking the first-team defense's ass. You just knew the kid was going to be great.
Streets : We had three-a-days. We made a connection right away. I was telling my mom at home, "This guy is amazing." Whenever I would come out of my breaks, the ball was there and all that. He was so accurate.
Brady's time at Michigan nearly ended prematurely. Scott Dreisbach opened the 1995 and 1996 seasons as the starting quarterback but was replaced by Griese each season due to injury. Brady was angered not to get a starting opportunity and nearly transferred to the University of California, which had offered him a scholarship out of high school and remained interested.
Lloyd Carr, head coach : (Brady) sat down in my office and said, "Coach, I think I'm going to transfer." I said, "Why?" He said, "I just don't think I'm ever going to get a chance to play here. I don't think I'm getting a fair shot. I'm not getting the same reps." I said, "If you leave here, it will be the biggest mistake you'll ever make. You came here for the academics, and you came here to be a quarterback. You need to fight through this. You need to go out every day and just work as hard as you can, commit yourself to improvement every day. Have you made up your mind?" He said, "I think so." I said, "Have you talked to your dad?" He said, "Yup." I said, "Well, why don't you think about it tonight and come back tomorrow? If you want to leave, I'll give you your release, but I urge you not to leave."
Loeffler : I remember calling him and saying, "Listen, man, you don't need to do this. You need to stay. You need to fight your way through this." I remember he called me back at like 11 o'clock, midnight, and goes, "I'm staying. I'm going to win this job. I'm going to prove to everyone that I'm the guy here." To be quite honest with you, at that time, he wasn't ready (to be the starter). He wasn't. Being the competitive guy that he is, he wanted to be, and he was going to prove to everyone that he could be the starting quarterback at Michigan.
Carr : So he came back the next day, sat down in the same chair right in front of my desk and leaned forward. He said, "Coach, I've decided that I'm going to stay at Michigan, and I'm going to prove to you that I'm a great quarterback." It was a powerful thing for a young kid. Really, from that day forward, there was nobody more committed to being the best he could be than Tom. He was fun to be around. He was such a great competitor. He brought his energy and his enthusiasm every day. He made us a better team simply because of the way he competed.
Loeffler : I think (staying) was one of the best decisions he ever made. Stay and fight, and finish what you started. That's what he did. I knew deep down he wasn't going to transfer. There was no way in hell he was going to transfer. That's not who he is.
Brady and Griese battled for the starting job in 1997. It sounded like a dead heat, but Carr awarded the perch to Griese, a senior who helped lead the Wolverines to a 12-0 record and the national championship. However, one person said, "it wasn't a tie," and Brady was indisputably the better quarterback in camp.
Shea : Him and Brian Griese was a coin toss. At Michigan, we used to say the tie goes to the senior. It was very, very close. It was back and forth.
Jansen : That competition wasn't settled until the week of our first game, and it was so close between Griese, Brady and Scott Dreisbach. Brian was a fifth-year senior. I think what separated them was it was Brian's last chance. He was given the opportunity because everything was so close. If he had faltered at all, Tom would have been in there right away. It just so happened that Brian never faltered.
Loeffler : Whenever you were at practice, if you really, really watched Brian and Tommy, Tommy was as good if not better than Brian at the time. If you went to practice, you couldn't tell who was the starting quarterback. Tommy had a great year in 1997 being Brian's backup.
Streets : We had some great quarterbacks at Michigan, but there was just something different about Brady. He was just amazing. Everything he did was perfect, except running the ball.
As Michigan transitioned into the 1998 season, Brady had won over the team with his performance in practice as well as his personality as someone who could have fun in any environment and compete in absolutely everything, which helped him shortly down the road.
Loeffler : Don't play golf with that dude. I mean, my god, he is an absolute competitor in everything he does. Don't play golf with him. He'll get pissed off if he's not playing well.
Shea : He's a guy's guy. He'd go out. Those stories of him chugging a beer, that was a fact. He can chug a beer quicker than me, but I can drink a whole lot more beers than him. I don't know if I've ever said this, but I'm going to say it now. We came up with this beer bong. I remember it was after spring ball. We're going to go get a beer bong. We put this thing together. We named it "Betsy the Beer Bong Butkus." Because Betsy goes down smooth, and Butkus because it hits you in your chest. Talk about chugging beers. We had a lot of fun with that. It was in his dorm room. We used it quite a bit. We had a lot of fun with Betsy.
Streets : His slow self, playing basketball, hitting the 3-pointers from the side off the backboard. His team would win, and I'd be like, 'This guy is awful.' He was good. He was just slow as hell.
Shea : Intramural basketball, we lost to his team. He was with Jon Jansen. I had Tai Streets and myself. We lost the championship game, and they went zone defense on us. Who goes zone defense in a fucking rec league? That's how he is. He would never play me one on one. He'd say, "I just don't want you to get hurt." He would play me in PIG, and he had this shot – he would bank a baseline 3-pointer. Think about that. That's a hard shot. Where I come from, if you make the shot, you can't take the same shot twice. But in California, he said they don't play those rules, so he would just sit there and beat me on this damn shot over and over.
Streets : They did play zone. There's no way they should have beat us. Same thing in tennis. He could play tennis, and we'd play one-on-one and he'd win in that, unfortunately. Then in miniature golf, he'd beat us in that. I had the lead one time, and he came and won it. It pissed me off. He's an awesome competitor. The tennis thing, he would talk junk, and I'd be like, man, this guy is not about to beat me. He would talk a little stuff and win, and it would make you so mad because he's so unathletic and slow. He just gets it done, man.
Larry Foote, linebacker : He was nothing but a little scrawny nerd, but he was always smooth with the ladies.
Shea : We would do this thing called "quarterback, wide receiver, DB," and we would rotate. You'd have guys like Charles Woodson, myself, Tai Streets, Dave Terrell, great athletes. We would go around – (one guy plays) quarterback, (one plays) wide receiver (and one plays) DB – and every time Tommy would be the DB guarding me, I would be just like, "9 route, throw it up.' But Tommy would be like, "I know what you're going to do," and he'd play like 20 yards back. He knew I didn't just want to do a 5-yard hitch. We'd clown each other. Those stupid little games we'd play at Schembechler Hall would be so competitive. He'd be out there trying to lock down Tai Streets, Charles Woodson, and taking it seriously.
He was a guy that would keep me in line. He'd be like, "Hey, listen, let's go watch third down and goal line, just an hour." He'd be like, "I'll drive." I'll be like, "No, no, I'll drive." I knew he would stay longer. Then all of a sudden, we'd be there an hour, then meet two hours. I'd be like, "Come on, man." He'd be like, "All right, we'll go. But hey, stay an extra half hour and I'll buy a milkshake after." Just a guy who was a constant grinder. He brings the best out of everyone.
Loeffler : The things he did at Michigan, going to the children's hospital. He was truly genuine with those kids who were dying of cancer. Every Thursday, he went up to see those kids. He has a great heart.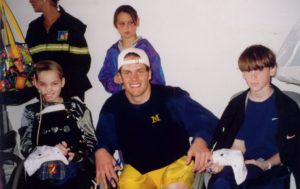 Brady visiting kids in a hospital while at Michigan in the 1990s. (Michigan University photo)
Foote : When I came in (as a freshman in 1998), it was his first year starting. He brought everybody together. In the summertime when coaches can't be involved, he really ran the show. That was my first impression of him. I chewed him out for getting on my case for being late. My former teammates still bring that up, "Hey, remember that time you cussed out Tom Brady?" I was just a young guy. I was full of myself at that time.
We got into a little verbal altercation. There are no coaches during the dead period in the summertime. I'm working out, and he's screaming at me one day (to get to the practice field), "Hurry up, it's 7:07 a.m.!" I just yelled back at him a couple words, something like, "Man, I ain't no wide receiver!" I put some four-letter words in there, too. He was jumping on me, snapping on me to hurry up, and I took offense to it. That's an example of, if you weren't doing it right, he was on your case. He was that alpha male, that leader as far as picking guys up when guys needed to get picked up and also getting on you if you weren't handling your business.
Even though Griese had graduated, Brady's path to the starter's job wasn't easy. After Griese's departure, Drew Henson, who played high school football in Michigan (and split his time with the New York Yankees, who drafted the third baseman in the third round in 1998), arrived in Ann Arbor as the top quarterback recruit in the nation.
Jansen : When Drew was signed, especially only growing up 20 minutes from Ann Arbor, there were a lot of articles, a lot of talk radio, a lot of everything surrounding his arrival. But I never felt from Tom that he felt threatened.
Loeffler : The thing Tom had to deal with and why he's such a champion, every single time he got in his car and turned on the radio, they talked about it. They talked about Drew Henson. They talked about how he should be the starting quarterback.
Falk : Drew came in as one of the all-time greats out of the state of Michigan.