If you love sports I highly recommend paying for the Athletic. It's cheap and has excellent in depth articles daily.
"Questions from Red Sox camp that need answers one month from Opening Day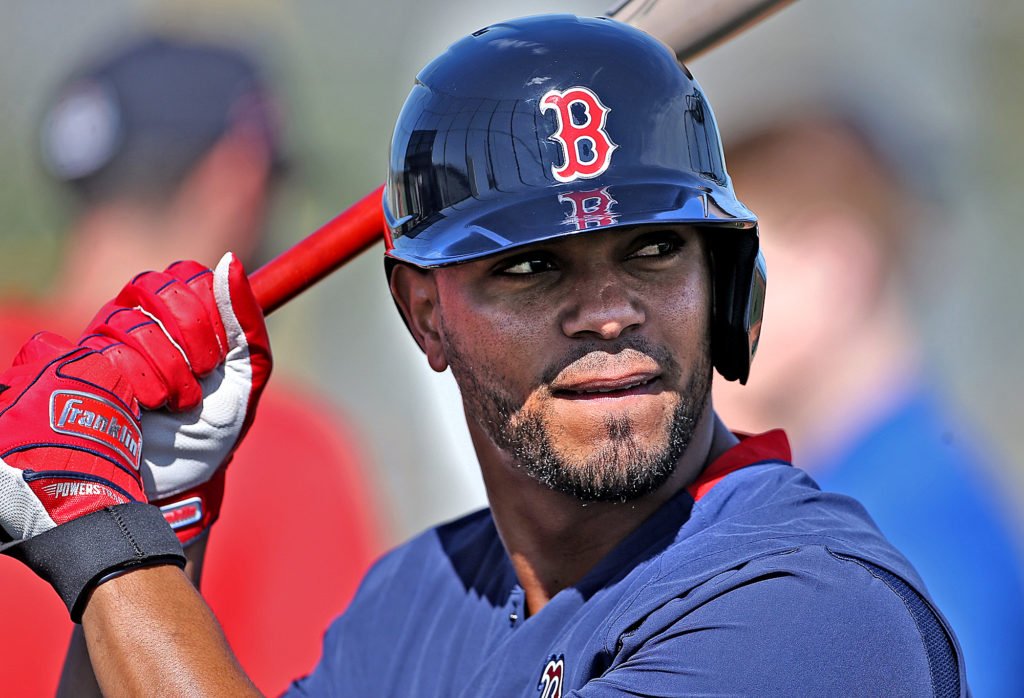 By Chad Jennings Feb 26, 2020
13
FORT MYERS, Fla. – After a relatively simple workout amid a light falling rain, Xander Bogaerts was sitting quietly in the Red Sox clubhouse late Wednesday morning when he sprang suddenly from his chair and went literally leaping, skipping and laughing out of the room.
Guess his ankle was feeling better.
Bogaerts' card game win against Darwinzon Hernandez sparked one of those small bursts of activity that seemed meaningful only within the dull monotony of spring training. It was like the moment earlier in the day when Chris Sale cursed at himself because he wasn't happy with a particular pitch in the bullpen. If Sale was still feeling sick, it wasn't enough to diminish his expectations for himself on the mound.
Opening Day is a month away, which means there's plenty of time for the Red Sox to base their final evaluations on more than leaps and shouts, but for now, here's where things stand with the biggest decisions in camp.
A rotation spot (or two) for a pitcher (or three)
Nathan Eovaldi started on Monday and threw 100 mph. Martin Perez started on Wednesday and went two innings. Eduardo Rodriguez is expected to start on Saturday. Those three are on track to open in the Red Sox rotation. Whether Sale will join them out of the gate seems up in the air.
After a successful bullpen on Wednesday, Sale could throw live batting practice as early as Saturday, but manager Ron Roenicke said Sale might need a second live BP before throwing in a game. That means Sale might not pitch a Grapefruit League inning until next weekend, or the week after, giving him roughly three weeks before the opening series in Toronto. That's enough time for four starts stretching Sale to five innings (give or take).
Whether that's enough to declare Sale ready might depend on the Red Sox' level of caution, which might be high given Sale's elbow issues last season. If they give Sale another week or so to get ready, they'll have two rotation spots to fill.
As it is, the Red Sox have made clear that Ryan Weber is a strong rotation candidate, a possibility only heightened by his two scoreless innings on Tuesday. Prospect Tanner Houck has also started a game this spring, so have more experienced pitchers Chris Mazza and Brian Johnson, and another prospect, Bryan Mata, is scheduled to start on Thursday. There also remains the possibility of an opener or a piggyback situation.
"We have this group of guys who are fighting for this one job, the fifth starter," Roenicke said. "And they'll fight that out, but if we find out that it's just kind of better to piggyback two guys, maybe that's what we do. We're still kind of looking at what we have and how it plays out."
An outfield injury and an infield competition
After the blockbuster trade that rocked the Red Sox roster, Alex Verdugo quickly became the presumptive replacement for Mookie Betts in right field. At least, until it was revealed the stress fracture in his back might keep him out of action at the beginning of the season.
Roenicke did say this week that there's a chance Verdugo could play in spring training games by the middle of March, but that's no sure thing. He's not swinging at the moment, and his status for Opening Day remains unclear.
"The first time (the training staff) had him out running outside was way better than what they thought," Roenicke said. "I think he's coming along quicker in those areas. I think we're just cautious on what the rotation can do in a swing. I really haven't asked. I don't know if that depends on whether he takes an (MRI) and the image shows that it's healed completely. I'm not sure."
If Verdugo can't go, veteran Kevin Pillar is the obvious stopgap as a fourth outfielder who can fill in every day. Who starts at second base is less clear and might still be a time split between Michael Chavis (who started at second and homered on Wednesday) and Jose Peraza (who was acquired this winter and is a better defender). The rest of the lineup regulars seem fairly cut and dry. Bogaerts' ankle injury is clearly progressing, and Rafael Devers could make his spring debut before the end of the week.
A bench of many questions
Only one bench role seemed up for grabs when camp opened. Now, only one seems set. Either Chavis or Peraza – whichever isn't playing second on a regular basis – should be one bench player, but the rest is subject to change.
Kevin Plawecki was the obvious backup catcher until veteran Jonathan Lucroy signed a minor league deal last week. Roenicke personally reached out to him, which suggests he has a real chance of beating the internal favorite.
Pillar was the obvious fourth outfielder before the extent of Verdugo's injury was revealed. Now it seems more likely he'll be in the starting lineup, prompting uncertainty about whether the Red Sox need a true fourth outfielder given J.D. Martinez's ability to play there (as he did on Tuesday) and the ability of a few infielders to play the outfield if necessary.
The utility infield role was the one bench job wide open from the very beginning, and that hasn't changed. Defensive specialist Tzu-Wei Lin is out of options, and Rule 5 pick Jonathan Arauz has to stay on the roster to avoid being offered back to Houston. If the Red Sox want to keep as much depth as possible, it might make sense to carry those two (and Lin can play the outfield if necessary). Prospect C.J. Chatham, though, is also worth consideration because he's a strong defender at second base and shortstop, and he's gotten his feet wet in the outfield. Marco Hernandez is also a familiar, capable and versatile defender. There's also the worthwhile possibility of Bobby Dalbec, a corner infielder with big-time power who could step into the lineup whenever Mitch Moreland is on the bench or Martinez is in the outfield.
An optimal bullpen comes in many shapes and sizes
Let's assume five bullpen spots are set. In fact, let's assume six – Brandon Workman, Matt Barnes, Heath Hembree, Darwinzon Hernandez, Josh Taylor and probably Marcus Walden. That leaves two openings, and maybe three if the Red Sox don't carry a true fifth starter.
In one role or another, Weber seems to have the attention of the Red Sox. He pitched in a career-high 18 major-league games last season, and the team can't stop talking about how much they like him. He's in a crowd with Mazza, Houck, Hector Velazquez and Brian Johnson as guys who seem likely to be stretched out this spring, either to start or provide long relief. Mike Shawaryn, Kyle Hart and Matt Hall fit somewhere in that group as well.
If the Red Sox carry two of those multi-inning pitchers, they'll have room for one more traditional reliever. Austin Brice, acquired from the Marlins, is out of options, which means the Red Sox have either to put him on the roster or risk losing him on waivers. Right-handers Ryan Brasier, Colten Brewer, Phillips Valdez and Trevor Hildenberger stand out as alternatives, as do lefties Bobby Poyner, Josh Osich and Jeffrey Springs. Ton of possibilities, and it's too early for any to have really separated themselves."