I don't know but this cements Studham in as the starter right? I mean if they were going to sign Cam or Winston or make a trade they wouldn't have bothered with Hoyer, right?
Adam Shefter thinks it means Hoyer is going somewhere he can compete to be the starter.
Not sure I buy that.
Well I guess in terms of teams with established incumbent starters, or guys with big contracts that aren't getting benched anytime soon or teams positioned to draft a top flight college QB, NE is the closest thing to an open QB battle as there is.
If Brian Hoyer is the starting QB at any time next year, we may indeed be in the Trevor Lawrence sweepstakes.
@Mike83 is correct about Hoyer's cap hit; according to Spotrac it's only $750k.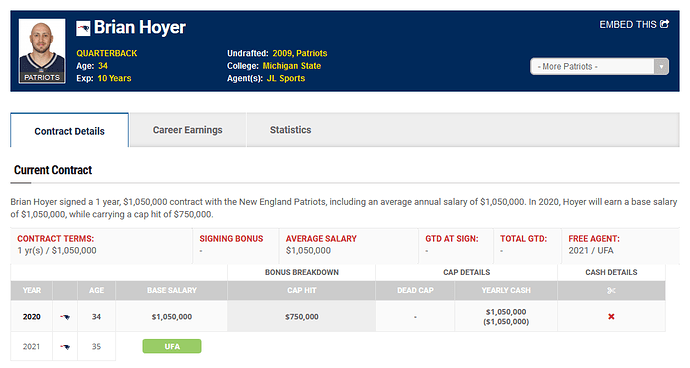 Man don't say that so loud. We don't want him walking around with a big head for the next two weeks
If Hoyers wins them a super bowl… just wow.