Thanks for everything and best wishes in your retirement. "Koji Time" was always memorable.
Uehara is the latest member of the 2013 team to retire, joining Jarrod Saltalamacchia, Mike Napoli, Will Middlebrooks and Jake Peavy as recent retirees. Only a handful of players-- like Jon Lester, Dustin Pedroia, Jackie Bradley Jr., Brock Holt, Jose Iglesias, Xander Bogaerts, Clay Buchholz, Andrew Miller and Brandon Workman-- remain active from that team.
I had forgotten that JBJ, Brockstar, X, and Workman were also on that team.
If the 2019 team were to get its act together and win it all, the four players named above could all be 3-ring guys, which kind of boggles the mind.

Never forget.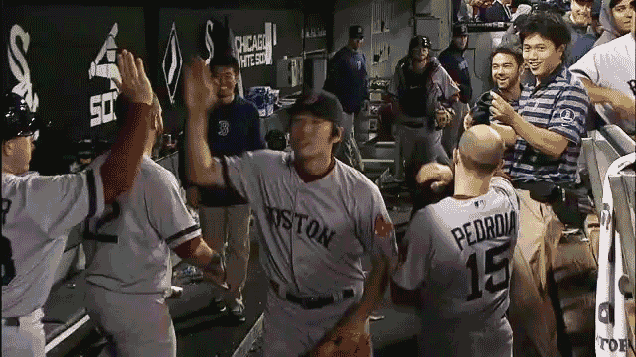 Off-topic. That GIF made me wonder what happened to Shane Victorino (the "Flyin' Hawaiian") so I Wikied him.
"On July 3, 2018, Victorino formally announced his retirement, and on August 3, he signed a one-day contract with Philadelphia so he could retire as a member of the Phillies."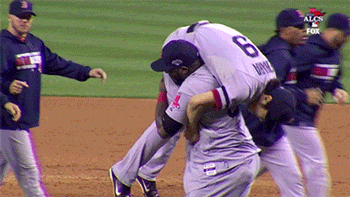 That slap was one of my favorite Koji moments. Always makes me laugh.
That's Cora, right???
My favorite too. He's slapping Shane.
Odd that he wanted to retire a Philly, when he won his WS ring with the Red Sox.
Maybe because the Phils were the first to give him a chance?

"Victorino played for the Dodgers, Red Sox and Angels after leaving the Phillies in the summer of 2012, but Philadelphia always held a special spot in his heart because it is where his dreams came true. And though he last played in 2015, he wanted to return to Philadelphia and symbolically retire with the club that he won a World Series with in 2008.
"This city made me the person that I am," he said. "I was a 25-year-old kid bouncing all over the place just looking for an opportunity and I got to come to a first-class organization with first-class people.""
Forgot that he also won a WS with the Phils in 2008. Over Tampa Bay, correct?
Guy can't complain about his career.
Hope he enjoys retirement. He was such a fun pitcher to watch.