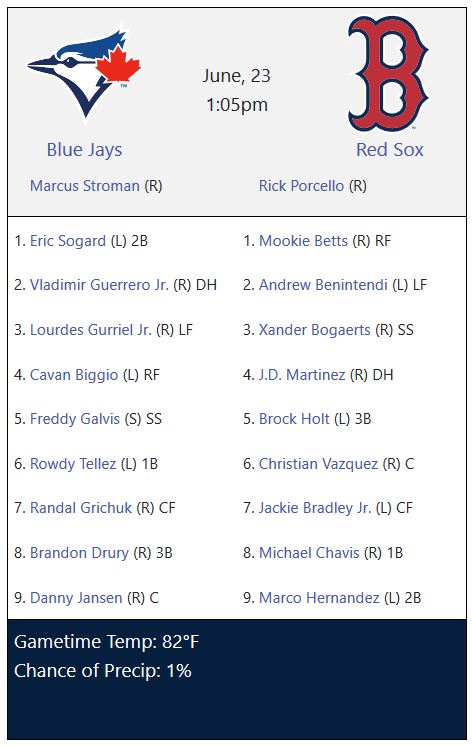 https://www.baseballpress.com/lineups
A message for the bullpen.
Lol well done Joolz.
Big dick Rick is up today. We got this!!!
Good inning for Porcello.
Already behind 1-0 in the 2nd.

I think the Sox had an opportunity in the 2nd and squandered. Amiright?
Not as good of a chance as now. Two men on with just one out. But yes we leave way too many men stranded on base.
They have 2 on with 1 out right now. LET'S GO!
Thanks half following on Gameday.
Crap Xander might be hurt. Slid weird on his knee and left the game

Frustrating. More stranded. Ugh.
Brock holt out of game too. Pulled hamstring looks like.
On top of the bullpen and offense suckage we have injuries now.
And we have the Yankees coming up soon in London

I'm not looking forward to that.
I'm headed out to get groceries. Good luck Sox. Keep me updated Joolz
Porcello balk brings in a run.

What else could go wrong?
Jays up 5-0 only one out with runners on 1st and 2nd.