Oh there is more, going to edit.
This has been some blockbuster news in football
Colts signed Bucker
Ok not near as big but ya. Time will tell where brady goes.
Posted this in my FB NFL group.
And just 6 hours after I posted my thoughts on Brady not coming back he has announced that his career in NE is over.
Thank you so fucking much for the seemingly endless hours of watching human greatness in athletic form and most importantly as you always said the mental game and mental toughness was the key to success and you provided that in that all too rare sight of just excellence. Don't know what else to call it right now
I'm a bit teary.
Thanks for the memories bro. You'll always be part of my family.
I'm surprisingly ok with this. I think deep down I knew it was coming.
In the end my Brady love is real, but so is my trust in BB. He has a plan. And its going to be spectacular.
until he signs I am hoping their is a chance, slim but still
The GOAT.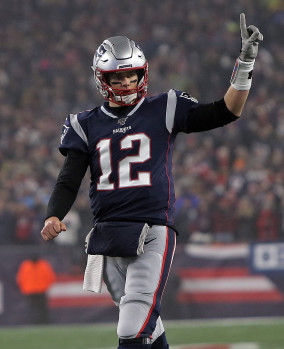 Yeah, he's the GOAT on the field, but let's face it, he's turning into David Koresh.
I wish him luck.
Like I said in the Random Thoughts thread I watched the 4th Q and OT of SB XXVI-III last night.
Seventeen minutes of pure magic. That's how I will remember him.
I'll forever miss the Brady manning rival

I still go back and watch old games. Some of the most exciting football I've ever watched!
Bring on Brady vs Brees!!
Oh, good point.
Brady as a Charger means he faces Kermit twice a year.
Brady as a Buc means he faces Brees twice a year.
Tom Brady reached out to Robert Kraft on Monday night and met with the New England Patriots owner at his home in Brookline. Kraft explained to NBC Sports Boston that Brady explained he would be leaving the Patriots.
Kraft said the conversation was warm between the two men. "We love each other very much," said Kraft. "He's like a family member. This is very sad because he's like a son to me."
"This is not the way I wanted it to end, but in life, people need to be free to realize what's important to them. I respect him so much. It was a sad, loving discussion."
Kraft hoped that Brady's visit was going to result in better news for New England. "I thought he was coming over as he has for the last 10 years to quietly get things done."
As it turns out, that was not the case. Brady has yet to decide where he will finish out his career. The announcement he is leaving New England, a source told me on Tuesday, will be the only announcement from the Brady camp today.
I asked Kraft if he was disappointed that the Patriots did not get deeper into negotations with Brady.
"It's not about that," said Kraft. "This is big picture. I just don't think he was going to be happy staying in our system at this point."