I just noticed that! Awesome!
Joolzie, I noticed you've been active in the dopamine thread. I'm glad you did because I know you have funny stuff & now they do too.
Yes, I never ventured into that thread because I didn't know what it was about.
Keep the damn cyclists off the roads in Ohio!


She has bitched to me before about that but I never cycle on the road. We have what's called Towpath & its for hiking, riding & whatever. I never ride on the roads. Too dangerous for everyone
Enjoy J!, Jack. I don't see sweaters or pube beards tonight.
Thanks for the reminder, Joolzie.
Here's a sweater for you.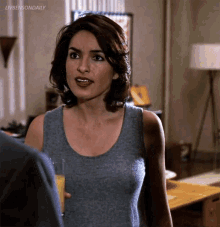 She's actually the same age as me. So I don't feel too pervy

Ugly. Rays at the corners and nobody out.
Rays have come out swinging!
"Here comes the kitchen sink"
Drink!
Bases loaded

Wall ball bases clearing double and it's 3-0 Rays