Good morning, my friends

Have a great day!
Morning baseball, folks. Sadly, I don't think there's a way to watch unless you cough up $4.99 for a subscription. I can't see an option for a free trial so that basically sucks.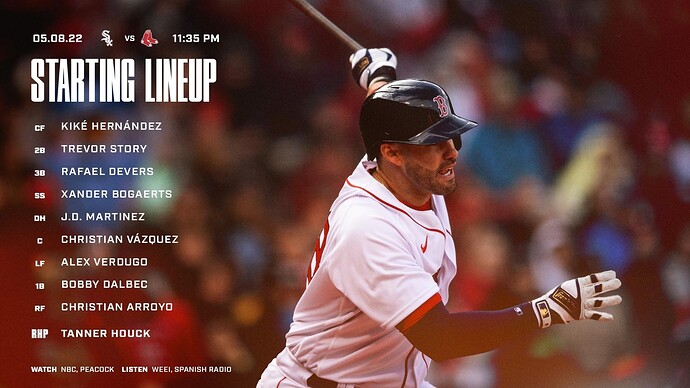 Good Moning, all

Early game & on NBC so I can watch.
Morning all have a great day!!!
Keuchel has been really struggling so maybe we can score some runs today.
I'm confused, Jack. Is it regular network NBC or Peacock NBC? I guess I'll check my onscreen channel guide to confirm.
My bad. It appears to be on NBC. I'll be watching bits and pieces and hope to participate in the thread.
Go Sox!
Mother's Day I'll be spending with Leah
Will be back later for the oilers game
Have a good day folks.
Hope Leah is feeling better

Houck sets them down in order to start the game
Kike draws a leadoff walk
Devers singles. 2 on 1 down
I'm stuck on Gameday for a bit.
Looks windy in your neck of the woods, Joolzie